Bringing The Fire
December 26th, 2017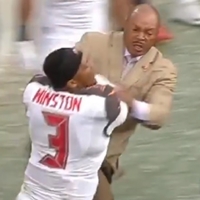 Now look, Joe cannot condone a player going mental on the sidelines having to be restrained by a team suit (Shelton Quarles) when it looked like said player was going to make a beeline towards a zebra.
But damn straight Joe enjoyed and love the fire America's Quarterback, Pro Bowler Jameis Winston, showed when he thought he was robbed of a fumble recovery.
It's about time someone threw a proverbial chair against the wall.
And Joe was equally excited to hear all the commotion going on in the Bucs locker room immediately after the game, as was picked up on Buccaneers Radio Network reporter T.J. Rives while broadcasting live inside the locker room.
Joe was listening as well, and Joe heard someone — it isn't clear who — absolutely screaming at the top of his lungs about something, and it wasn't with glee over a new Christmas present. Whoever it was sounded like he wanted to crack skulls.
Then other voices were audible during a commotion of some sort. It reminded Joe of the time Scott the Engineer went mental on "The Howard Stern Show," with about 25 folks egging him on amid pandemonium, when Stern refused to cough up five-figures on a push-ups bet because he thought Scott the Engineer cheated.
Rives was waiting for Lavonte David for an interview when it was clear things were getting out of hand in the locker room. Rives was trying — and failing — to talk over the chaos, mentioning tempers were flaring after a frustrating loss and hoping he could also drown out the vulgarities that were being spewed. Rives explained David was delayed in the pre-arranged interview because David had to intervene in calming someone down (read: break up a hassle). With more hollering being heard, Rives noted, "Emotions are running high."
Seconds later, whoever was producing the show apparently told Rives they were bailing to commercial to avoid the FCC from knocking on Team Glazer's door for the team network airing several variations of George Carlin's seven dirty words.
Since the locker room was closed to other media at the time, we can only guess what started or who was in the middle of the fracas. Joe wonders if the incident was sparked when someone in anger stole Swaggy Baker's treasured framed picture of a palm tree?
Joe applauds this! It's been way too long for players to be tolerating incompetence, stupidity and ill-discipline from teammates. It is about time folks are being called out in front of others.
Where was this passion two months ago when the Bucs still had a prayer of a wild card run?
Jameis Winston is going crazy. pic.twitter.com/v4jAYOqQFb

— Kevin Marchina (@kg_holler) December 24, 2017