Will Jameis Settle Quickly?
November 21st, 2017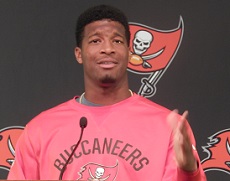 The serious crotch-grabbing allegation against America's Quarterback, Jameis Winston, by a female Uber driver is being investigated by the NFL.
That we know.
But lawyer turned ultimate NFL insider Mike Florio of ProFootballTalk.com explains that Jameis could stop the NFL in its tracks.
Now that the driver has an attorney, John Clune, the same lawyer who represented the woman who accused Jameis of rape five years ago, a window is open to make the disagreement go away, Florio notes.
How much worse can it get for Winston? As noted last night, if the Uber driver cooperates with the NFL — and if the NFL believes her (perhaps not even completely, as Ezekiel Elliott learned) — Winston will be looking at a baseline suspension of six games.

The involvement of Clune gives Winston a window for resolving this matter in a way that virtually ensures no NFL punishment. If Winston's lawyers can broker a civil settlement with Clune that entails a release of claims and an agreement not to cooperate with the NFL, the case necessarily would be closed.

It's unclear whether she'd even be interested in a settlement. Clune tweeted that the alleged victim's "sole purpose is to put other women on notice of this unacceptable behavior as so many other women have recently done."
One could say, 'Hey, Jameis settled the civil suit with his rape accuser, a charge that was much more heinous. Then why not just settle this, too, right now?'
Joe is not saying that, but it surely is crossing the minds of Jameis' team of advisers — who appear to have given him miserable advice on this matter to date.