"We'll Be Sharing The Responsibilities"
November 25th, 2017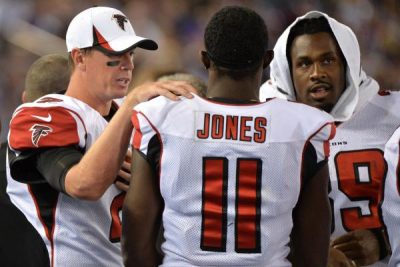 Ryan Smith, meet your new friend, Mr. Julio Jones.
That was the word from .500 head coach Dirk Koetter yesterday.
Sort of.
Koetter was talking on the Buccaneers Radio Network and said it won't be all Brent Grimes on often-lethal Jones tomorrow.
"We'll be sharing the responsibilities," Koetter said. "We typically don't match. We typically play sides with our corners."
Koetter added that teams often stay away from throwing at Grimes (wise move) and Koetter reiterated that Ryan tried to stay away from Grimes in practice when both were Falcons teammates and Koetter was Atlanta offensive coordinator.
Playing sides, Koetter said, is really a matter of philosophy, but something that can change as a game progresses. Koetter noted Falcons cornerback Desmond Trufant stays on one side of the field primarily but surprised the Bucs last year by matching up with Mike Evans around the field.
Of course, Joe is assuming Ryan Smith will be the starting cornerback opposite Grimes. It could be Robert McClain, though.
Regardless, the Bucs have a massive headache coming their way with the Falcons receivers, especially if the pass rush continues to struggle.
The corners not named Grimes really have to step up in a hurry. The Bucs play five stout quarterbacks in their last six games.