Two Bucs Highlights! Yes, Highlights! (Video)
November 7th, 2017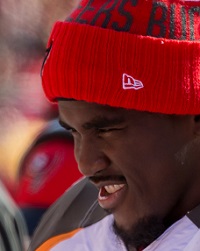 Hey, it isn't all bad.
Take Lavonte David.
He leads the NFL in forced fumbles this season with four.
Since entering the NFL in 2012 as a former rockstar general manager Mark Dominik second-round pick, David has the fifth-most forced fumble across the league, trailing Von Miller, Robert Quinn, Ryan Kerrigan and Cameron Wake.
David got a Pro Bowl-caliber one on Sunday in New Orleans.
Former Bucs tight end Anthony Becht posted his breakdown for the Buccaneers official website on YouTube. Enjoy it below. It's uplifting stuff during these dark, dark times. Becht also breaks down Robert Ayers' strip/sack of Drew Brees.