Still Part-Time Hargreaves
November 7th, 2017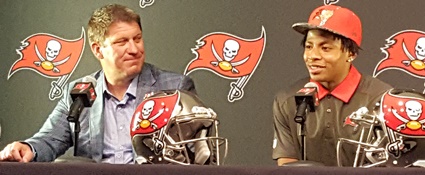 Lost in the embarrassment of the Bucs failing to compete on Sunday — again! — was another relocation and demotion for Vernon Hargreaves.
A quick timeline:
Hargreaves had been brutal and was demoted from outside cornerback, where he played nearly 100 percent of snaps, to nickel cornerback for the Buffalo game. He played ok.
During that game, new outside starter Robert McClain, a free agent who was unwanted on the street for many weeks this spring, got a concussion. So the following week Hargreaves moved back outside against the Panthers. And he was pretty solid.
But two days ago in New Orleans, Hargreaves was back at nickel with McClain healthy and playing 100 percent of the snaps outside and Ryan Smith getting the other 100 percent at corner with Brent Grimes injured. Hargreaves was in on 45 percent of snaps, per Pro Football Reference.
Man, Hargreaves has fallen from grace. He can't beat out Smith or McClain for playing time, even after coming off a couple of decent games. This guy was the No. 11 overall pick last season!!
With the season out of reach, Joe sure hopes the Bucs stick Hargreaves back outside and see if he can man up and grow at the position. They didn't draft him to play nickel.