TV Map For Bucs-Dixie Chicks
November 25th, 2017
A true crossroads game this is, between the Bucs and the Dixie Chicks tomorrow.
Find out where the Bucs-Dixie Chicks telecast can be found in the continental United States without the need for NFL Sunday Ticket or a bar.
The Bucs kick off in the new Artie Blank Dome at 1 p.m. in Atlanta. Basically, if you live outside of the Sunshine State, Georgia or Alabama, you will need to bolt to your local watering hole or have NFL Sunday Ticket. Fossil Dick Stockton and "Stink," Mark Schlereth, will call the game.
As always, this FOX NFL map for Sunday's games is courtesy of 506sports.com.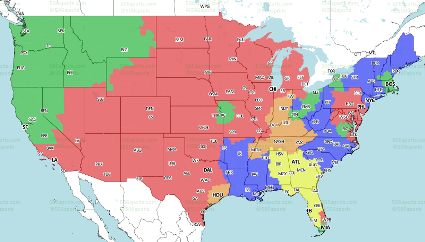 Yellow: Tampa Bay @ Atlanta
Blue: Carolina @ NY Jets
Red: Chicago @ Philadelphia
Orange: Tennessee @ Indianapolis
Green: Seattle @ San Francisco (LATE)