Time For Mike Evans To Take Over
November 19th, 2017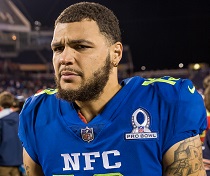 He's been banged up. He's dropped too many balls, and he's been suspended for moronic behavior — and he's still having a decent season.
Now Mike Evans returns today for what's hopefully a dominant finish to 2017.
The Buccaneers offense has been ugly for a few weeks and it's not just the absence of a healthy America's Quarterback, Jameis Winston. Guys need to step up, and it has to be the stars. And it hasn't been happening.
DeSean Jackson did what he could last Sunday, but now Evans is back and the aerial weapons — #WeaponsForFitz — are in full force. Evans got his bye week courtesy of Roger Goodell and his knee is finally 100 percent, he said this week.
It's time Evans had a monster game.
Today.
The Dolphins' secondary is nothing special and there should be plenty of opportunities.
Evans says he takes massive pride in being a Bucs captain. Well, given the situations surrounding the team, from Jon Gruden chatter to Jameis groping accusations, it's time for the Bucs leaders to recognize what's going on and dial in with deeper focus.
Joe expects that from Evans and Joe has no doubt we'll see a ton of passing today from the Bucs with a talented Dolphins D-line focused on stopping the run — not difficult against the Bucs — and making Ryan Fitzpatrick beat them.
As far as Evans getting back into the speed of things and stepping up his game from what he has confessed has been a down year for him, Bucs coach Dirk Koetter isn't worried. As he told SiriusXM NFL Radio Friday night, "Mike's a pro. He knows how to handle it."