Stats Surge For Gerald McCoy
November 21st, 2017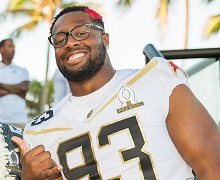 Man, Joe is loving watching Gerald McCoy against the Dolphins over and over. The man was an animal — and he dealt with a nasty first-half eye gouge.
McCoy also is racking up a special season.
Yes, the Bucs are 4-6 and that's bad. Nothing special about that, even if they are on an encouraging two-game winning streak.
But McCoy is approaching rare numbers for himself.
McCoy has 25 solo tackles with six games remaining this season. He's only had 30 in a season once in his career, 35 in 2013. McCoy's 10 assists this season also represents the first time he's cracked double digits in that category since 2013.
It's great to see McCoy grinding along. He's in his prime at 29 and continues to fight through injuries, including the kind you have after you've played 104 games in the trenches like he has.
Perhaps next year is the season the Bucs find him a special edge rusher to team with. The last good one he had now has 37 1/2 sacks, two Pro Bowl trips and a Super Bowl ring with the Seahawks.