Dirk Koetter Plays Defense For Doug Martin
November 21st, 2017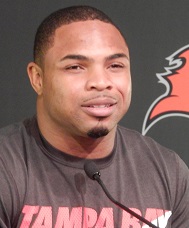 Before Joe gets rolling here, newcomers should know that Joe invested a ton of time last year, and through the 2017 offseason, explaining that Doug Martin should not be on the Tampa Bay roster.
But here he is, soaking up an overblown paycheck. And Martin continues to be a poor running back.
Martin is averaging 3.1 yards per carry on lot of touches. He averages 16 carries per game, which ranks 12th most in the NFL.
That brutal yards-per-carry average is near the very bottom of the league — where Martin finished last year among full-time running backs at 2.9 yards per carry.
Ok. So Martin is bad. Not a shock at JoeBucsFan.com world headquarters. But what is stunning is that he is being absolved of blame by so many people.
Sure, running the football is a group effort, but so much of this is on Martin. Dirk Koetter, however, disagrees. Koetter issued a firm defense of his go-to running back yesterday.
Joe can only wonder what Charles Sims, Peyton Barber and Jacquizz Rodgers thought hearing Koetter basically say they can't perform like Doug has.
"It's not him that is not consistently moving the ball. In my opinion, he is not the reason we are not moving the ball on offense. If you look at that tape, Doug's making a little bit out of not too much more often than not. We went over this exact thing last week," Koetter told assembled media Monday. "When the passing game is not going well, the quarterback takes the heat. When the running game is not going good, the running game probably takes too much heat. It's a team effort. If we went through all 19 of Doug's carries we would see he had an explosive on the trap on the first drive [and] he had a nice seven-yard run that he bounced outside. Doug had a couple really nice runs that were four-yard gains."

"… The running back is going to take the hit. Believe me if we thought Gale Sayers was sitting back there behind Doug [Martin], he'd be in there. I haven't seen Gale out there."
Joe is so sick and tired of the Martin fanboys (Koetter is not a fanboy, but could be soon) talking about the small handful of good runs Martin has each week.
Jiminy Christmas! The guy should have small handful with 16 carries a game.
What about all the times Martin isn't hitting holes hard? Heck, Joe watches the tape, too, and it's obvious Martin is leaving plenty on the field. Or, Martin isn't leaving anything on the field; he's simply getting the most he can out of his declining burst and inconsistent vision.
Chucky didn't think he had "Gale Sayers" on the bench when he ignored Earnest Graham for years. And then when Graham was forced into action in 2007, he led the Bucs to a playoff berth. Undrafted rookie LeGarrette Blount didn't get the rock full-time until Week 6 of the 2010 season. He finished with 1,000 yards that year and put the Bucs on his back.
During the debacle of the 2013 season, rookie Mike James was an afterthought until an injury to a struggling Martin pressed him into action in Week 6. James was a studly 57 carries for 283 yards until he got hurt. And guess what, after Jameis went down, off-the-street Bobby Rainey had rushing games of 163 and 127 yards.
Heck, look what Jacquizz Rodgers accomplished last season.
It happens several times a year across the NFL: out-of-nowhere running backs get a shot and thrive.
All Bucs fans really know about the running game is that it's been rather sad for six weeks with Martin getting nearly all the work. Nobody can argue that.
Unless other running backs get a shot at Martin's role, we'll never really know what they can do.
Joe doesn't see Koetter shuffling the offensive line, so why not the running back for a game?
Rodgers was strong with 16 carries for 83 yards against the Giants and earned a "game ball" from Koetter. He has only has nine carries in the last seven games. Joe can only imagine what's going through Rodgers' head these days.