Right On Time For Dirk Koetter
November 13th, 2017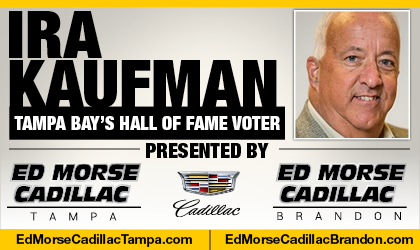 BY IRA KAUFMAN
The second half of the Buccaneer season is now underway and it can be neatly summarized in five words:
A referendum on Dirk Koetter.
Tampa Bay has seven games remaining to show the Glazers how much these players still believe in what Koetter and his staff are selling.
Sunday's results weren't overwhelming on that score, but the Bucs found a way. Just as importantly, they found some energy.
Make no mistake, the Jets needed this game badly. They knew a win would leave them at 5-5 heading into a bye week, giving the New York tabloids additional time to praise them as NFL overachievers.
Instead, the Jets were roasted for losing to a last-place team and looking flat in the process.
"It seemed like they wanted it more than we did," said Jets nose tackle Steve McLendon.
Those words should resonate with Buc ownership because lack of effort did in Raheem Morris after the 2011 season, only one year removed from a 10-6 finish that thrilled fans and ownership alike.
No Fake News
The Glazers felt they had no choice but to jettison Morris after that unfathomable 10-game losing streak. The ugliest word in sports is "quit" and even supporters of Morris had to admit that the team quit on on its head coach.
During this season's five-game losing streak, there was a gnawing concern that effort and hustle were again becoming issues at One Buc Place.
For one afternoon, those worries were cast aside.
"We went out there today and had fun," said Kwon Alexander, who looked like his old active self after a few pedestrian games.
"Everyone did their job and everyone was in the right spot."
The Bucs swarmed to the football like they did in the season opener against Chicago, hunting the quarterback and closing down running lanes.
"That was some lights-out defense we just played," said Luke Stocker. "It's hard to play offense when your quarterback is getting hit and you can't run the ball."
You can't fake steak and you can't fake energy. For five weeks, the Bucs were still standing around when fans returned to their seats after the National Anthem.
The Resistance Movement
As the Glazers looked on in alarm at an unraveling franchise , the Jon Gruden rumors continued to swirl. Not a single current Buc played for Gruden, but they all heard the growing conjecture about his return.
How would they respond?
"Everyone ran to the football," said Lavonte David, the leader of the resistance movement. "We got together last week and realized we were beating ourselves. Today, everyone made plays."
Across the hall, Austin Seferian-Jenkins addressed the Jets media.
Through three quarters, he hadn't said a word in this matchup, failing to catch a single pass.
"Our defense did its part … our offense has to play better," he said. "The Bucs have a lot of talent over there — they've got some ball hawks. Give them credit, they played very hard."
There's your headline, Buc fans: they played very hard.
It doesn't seem like too much to ask, but it's been a long time coming.
For Dirk Koetter, it may have been right on time.
Ira Kaufman is the most beloved, revered and esteemed Buccaneers columnist in town. He has hung his hat at JoeBucsFan.com world headquarters since July 2016. Tampa Bay's only Pro Football Hall of Fame voter, Ira busts out columns here every Monday, Wednesday and Friday, and his award winning podcasts fire Tuesdays and Thursdays. You can also see Ira every football Sunday at 10:30 a.m. on FOX-13, Scott Smith's Tailgate Sunday.