Brooks: Bucs Will Need "Community Buy-In"
November 13th, 2017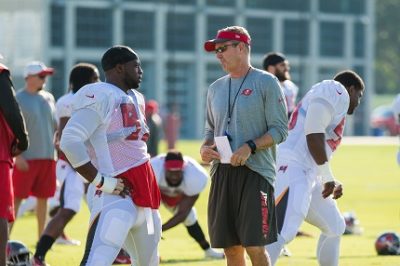 So what is the state of the Buccaneers throughout the Tampa Bay area? Those are murky waters to navigate.
Are the fans, community and their support of the team even important to success on the field?
Iconic No. 55, Mr. Derrick Brooks, says yes. And that was before Sunday's defense-led throttling of the Jets at the Stadium on Dale Mabry Highway — where the Bucs have been playing Brooks-like defense this season, holding five teams to an average of 15 points per game.
Brooks joined WDAE-AM with the great Steve Duemig last week and said for the Bucs to right their proverbial ship as it's constructed, they'll need more than just the locker room on board.
"You may not get as much buy-in from the community as you need, but it's going to take a community buy-in as well to see this team through," Brooks said.
It's an intriguing take.
After the New Orleans game two Sundays ago, Joe knows fans and the community lost a whopping ton of faith in this team and its leadership and heart. That's not fixed overnight. But yesterday was start.
It's interesting that Brooks finds the fan and community buy-in so important.
And that got Joe thinking about the glory days Bucs and other successful teams. Typically, those clubs do have a special level of support from the outside, which penetrates the roster on some level. Hey, if negative press can help implode a team, then certainly positive support from the community should make a little difference, too. Right?
Joe wonders if Brooks was really sort of saying that an all-out fan and media mutiny could tear down the Bucs' regime. (See Schiano billboards.)
Joe sure hopes that doesn't happen prematurely in 2017, as in right now, Nov. 13.
Brooks added that it would be a mistake to try and pinpoint one major problem with the Bucs, noting that it's a "bunch of little things." He added a true day-by-day approach is the fix, and he pointed to New England's struggles earlier this season and the workmanlike way they pushed through them.
And Brooks didn't gloss over the magic elixir that rights everything over time. ""Winning helps," he said.