PODCAST: Is A Win Really Just A Win?
November 20th, 2017
Podcast: Play in new window | Download | Embed
Subscribe: RSS
Eating a "W" tastes different than usual this morning. The Commish, Justin Pawlowski, hits on that subject and a whole lot more! Plus, there's your voiced Bucs takes, as usual.
On Mondays, Wednesdays and Saturdays, Bucs Uncensored unifies Tampa Bay fans (Stick Carriers!) in every corner of the universe. You can be a part of the show. Just email a 90-second-or-less audio blast to BucsUncensored@gmail.com. Listen above or subscribe on iTunes right here, or at Podbean.com. Justin's work is not influenced by JoeBucsFan.com. Joe just thinks it's very, very, very special. **CAUTION: some R-RATED language!**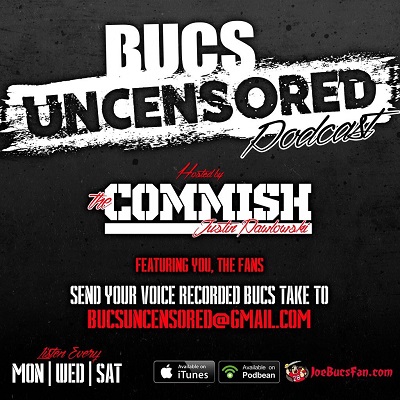 PRESENTED BY