"He's In As Much Trouble As The NFL Wants Him To Be In"
November 19th, 2017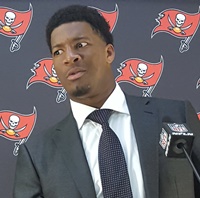 So what's the real punitive reality facing Jameis Winston, America's Quarterback, who is now accused of crotch-grabbing a female Uber driver 20 months ago without permission?
Sadly for the image of the Buccaneers, this was a topic on the NBC Sunday Night Football pregame show.
What a great look for your surging Bucs!
Civil attorney turned ultimate NFL insider Mike Florio, the guru of ProFootballTalk.com explained that Jameis could have very little leverage to avoid an unwanted vacation and millions of lost salary.
"If there's an accuser and the NFL believes that person, even partially, not completely, the NFL can do whatever it wants to do," Florio said. "Six-game suspension, any-game suspension, and we've learned through the court system it's going to be upheld."
Of course, Florio is referring to the league's new conduct policy, and the high-profile, legally-challenged Ezekiel Elliott case — and the league being super hypersensitive to links to sexual misconduct.
You can view the NBC video below. And Florio goes into more detail here.