Peter King Talks Gruden And The Cowboys, And Glazers
November 29th, 2017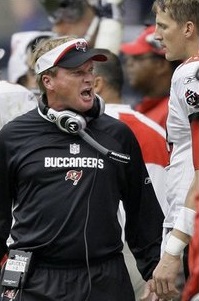 Sports Illustrated and TheMMBQ.com super insider Peter King talked Chucky and the Bucs yesterday on national radio.
California train-romancing, anti-football proliferation, outhouse-admiring, airline-napping, steerage-flying, Yogi Berra-worshiping, urinal picture-taking, video game-playing, Taylor Swift-listening, pickpocket-thwarting, Bucs-uniform-frowning, Allie-LaForce-smitten, Big-Ten-Network-hating, pedestrian-bumping, olive oil-lapping, popcorn-munching, coffee-slurping, fried-chicken-eating, oatmeal-loving, circle-jerking, craft beer-chugging, cricket-watching, scone-loathing, college football-naïve, baseball-box-score-reading, NPR-honk, filthy-hotel-staying, fight-instigating, barista-training, social activist King was asked on The Rich Eisen Show about the NFL coaching hot seats and the future of Jon Gruden.
King said he believes Chucky could be a fit for the Cowboys, only if Dallas continues its complete meltdown without Ezekiel Elliott.
And then King talked Bucs — without mentioning Chucky.
"I think there will be some questions to be asked in Tampa Bay," King said. "I don't think Tampa Bay wants to be known as this franchise, Schiano lasted two years, Lovie Smith lasted two years., They don't want to be in this revolving door thing. I think unless they play horrible down the stretch, Dirk Koetter stays."
Joe disagrees with King on the point that Team Glazer would care about being known as a team with a "revolving door" of coaches. Joe's not saying Koetter will be fired, but why would Team Glazer care about public perception if they believe they have the wrong coach? Only a team of morons would give that consideration in assessing its head coaching situation. And Joe is confident Team Glazer is an intelligent body.
Listen to King below.