Marpet Talks O-Line Fix
November 26th, 2017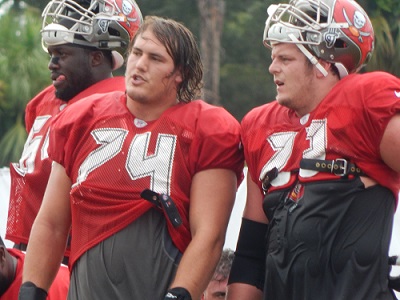 Listening to nearly all the key offensive linemen talk this week, Joe heard a maddening and consistent theme.
They all believe the pass blocking has been stellar this season and the run blocking is oh, so, close to breaking out into a hole-opening force. "We're right there," Donovan Smith explained.
Right guard turned center Ali Marpet believes elementary details are holding the run blocking back.
"I think for us to take that next step, it's details, especially in the run game. I think it's really small stuff. But if we clean up our footwork just a little bit here, a little bit there, I think we'll be able to start gashing some people and having some explosive runs," Marpet said on the Buccaneers Radio Network.
Joe can't help but start wondering what the heck is going on with offensive line coach George Warhop. His job is to get the most out of his players, and it seems he's failing on getting run blocking through to these guys. They haven't been strong, and it's magnified by Doug Martin's lack of vision, burst and willingness to hit holes and seams hard.
Most lines prefer to hammer away in the rushing attack versus pass blocking, but the Bucs'.
Joe thinks Kevin Pamphile going full-time today at left guard (Evan Smith is out with a concussion) will help bring more consistency. And the truly nasty dynamic duo up the gut of the Falcons defense, Grady Jarrett and Dontari Poe, should awaken Marpet and J.R. Sweezy to the importance of those footwork details.
Of course, if Sweezy is having the flexibility issues outlined by ex-Bucs tight end Anthony Becht, then it's going to be a very long Sunday in Atlanta. Jarrett is a master of winning the leverage game.