Make The Jameis Call Fast & Easy For The Glazers
November 20th, 2017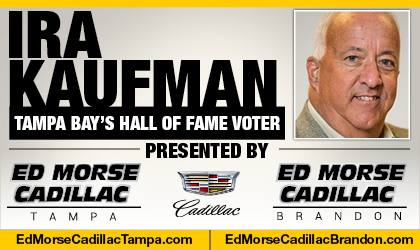 BY IRA KAUFMAN
If this NFL investigation into Jameis Winston's conduct on the night in question lingers into next year, there's something wrong with the process.
We don't need psychiatrists, character witnesses and a wave of forensic teams to testify.
We need to answer one crucial question: how many passengers were in the Uber?
According to Winston's accuser, Tampa Bay's quarterback sat in the front seat and groped her while the two of them were alone in the car, waiting for fast food to arrive from a drive-thru.
The accuser's newly-hired representative, John Clune, yesterday reiterated the claim that there were no other passengers besides Winston.
Winston says he did nothing wrong and now former FSU teammate Ronald Darby is backing up his buddy's claim that there were multiple passengers. Darby said he and Winston were in the back seat while an unidentified third person sat in the front, next to the driver.
The only thing all parties seem to agree on is that the Uber was summoned on Winston's account, which was immediately suspended once the Uber driver made her initial allegation to the company 20 months ago.
This case has spun off in bizarre directions.
Mystery Guest
Neither Winston nor Darby has offered any information about the name of a potential third passenger, the rider who supposedly sat right next to the person making the allegation. Who was it, and why haven't we heard from this mystery guest?
I'm not sure whether Darby's account helps or hurts Winston's case in the public eye. This is the same buddy who spoke up in Winston's behalf when he was accused of rape while a student at Florida State, with Darby claiming the sex was consensual.
Now, when Winston is once again defending himself against a charge of sexual misconduct, Darby reappears to offer an alternative scenario. More than a few people didn't believe Darby's account in the 2012 sexual assault case. Five years later, some will see him as a convenient character witness willing to defend Winston at all costs.
The ramifications of this new charge are far reaching.
No Middle Ground For Glazers
The Bucs could soon decide whether to make Winston one of the league's highest-paid players. One disturbing aspect of this case is Winston's failure to inform the Bucs of the incident when he returned from Arizona.
Dirk Koetter said he was blind-sided by the allegation, and that's not fair to Winston's head coach. Even if Winston believed the groping charge would never come to light, he owed it to the Bucs to tell them that his Uber account had been suspended — and why.
If the league takes its sweet time completing its probe, Winston could enter the 2018 season with a potential suspension hanging over his head. That scenario could affect Tampa Bay's willingness to commit to Winston on a long-term basis.
Heck, it could even change the way Jon Gruden looks at One Buc Place as a potential landing spot for a return to the NFL sidelines.
If the Uber driver was groped and Winston wasn't the culprit, he should not be held responsible, even if he was in the vehicle at the time of the unwanted sexual advance.
If the accuser's allegation is verified and Winston is shown to be guilty, the Bucs have to move on from No. 3. I don't want to hear about counseling or classes, he's got to go.
Hopefully, the NFL investigation will be thorough and timely. There's a lot at stake here, namely the future of a quarterback and perhaps the fate of a franchise.
I'd like to see Winston at a podium this week, giving a detailed account of exactly who was in that Uber. Yes, I want him to name names.
And I've heard enough from Ronald Darby, thank you very much.
Ira Kaufman is the most beloved, revered and esteemed Buccaneers columnist in town. He has hung his hat at JoeBucsFan.com world headquarters since July 2016. Tampa Bay's only Pro Football Hall of Fame voter, Ira busts out columns here every Monday, Wednesday and Friday, and his award winning podcasts fire Tuesdays and Thursdays. You can also see Ira every football Sunday at 10:30 a.m. on FOX-13, Scott Smith's Tailgate Sunday.