Lions Players Mock Jameis Winston
November 10th, 2017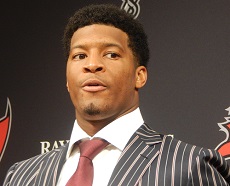 It's rare to hear NFL players take verbal shots at another team's quarterback.
And it's even more rare when the two teams haven't faced each other in a season and won't for five weeks.
However, Sunday's finger-sucking, pregame antics of America's Quarterback, Jameis Winston, were a too irresistible target for Lions players this week.
Yes, Jameis shocked a lot of the country when he was seen on FOX trying to pump up his teammates by sucking his fingers while shaping them in a "W" formation and yelling "eat a W tonight." (Video below) Hey, Joe thought it was funny at the time, though the stone-faced Bucs standing around Jameis revealed he failed badly.
"I'm not going to lie, that was one of the most embarrassing pregame speeches I've ever seen," Lions guard T.J. Lang said Tuesday evening during his weekly radio appearance on 97.1 FM in Detroit. "It wouldn't have been as bad if his teammates got riled up, but the looks on their faces like, 'What the hell just happened?' I mean, if the guys would have got riled up, you could have been like, 'OK, that was kind of funny, it was kind of cool.' But it was just dead, man. It was brutal."
There's more via MLive.com here, including from Matthew Stafford. And the NFL Network video below, Deion Sanders and LaDainian Tomlinson take their shots at Jameis.
If the Bucs have a pulse, this should make for an interesting clash against Detroit in a month.
And no, Joe had no problem with Jameis' bizarre 17-second speech, which was followed immediately by whatever Kwon Alexander offered the team.
Joe is confident the finger-sucking had nothing to do with Devante Bond crapping the bed on special teams early in the first quarter.