Koetter: Jameis Will Be Cleared To Practice Wednesday If He's Not Sore Tomorrow
November 27th, 2017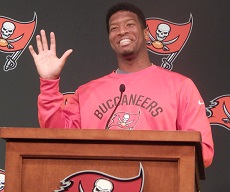 Exciting news at One Buc Palace this afternoon.
America's Quarterback, Jameis Winston, had an MRI today and, per Dirk Koetter, if Jameis is not sore after his rehab/training session tomorrow, then he will be cleared to practice on Wednesday.
Koetter clarified to say "cleared" would mean ready to "take all the reps" at practice.
That means Jameis could start Sunday.
Jameis has not been throwing since he's been sidelined, Koetter said, just engaging in strengthening exercises and rehab work.
On Friday, Koetter said Jameis was "chomping at the bit" to get on the practice field.
Encouraging stuff. Nobody wants to see a guy get injured. And now we might get to see what the Bucs full-strength offense looks like against good football teams down the stretch.