Jameis Winston: Dr. James Andrews Visit Was "Standard Protocol"
November 8th, 2017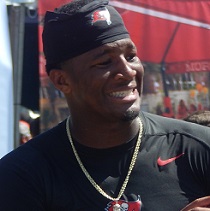 UPDATED 11:58 a.m. –  America's Quarterback, Jameis Winston, acknowledged his visit to renowned orthopaedic surgeon Dr. James Andrews yesterday.
But he didn't offer much detail.
I've known Dr. Andrews a long time," Jameis said. "Standard protocol."
Jameis said his goal is to get to 100 percent and return ASAP.
"I'm preparing to rehab hard for these next couple of weeks and see where we go from there," Jameis said.
As for Jameis' relationship with Andrews, he said it goes back to when they met at his office in sixth grade when Drew Brees was there at the same time. Jameis joked he was the first person to get Brees' autograph when he became a member of the Saints.
Great to hear that Jameis will be allowed to "rehab hard," and that he is optimistic about a return this year. It would be great for him to, say, come back with four games to go completely healthy and build toward 2018.