Put The Blame Where It Belongs
November 8th, 2017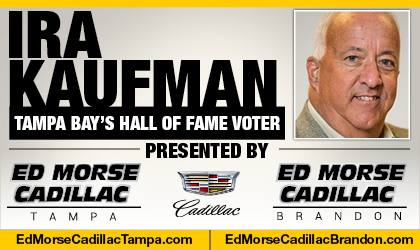 BY IRA KAUFMAN
Dirk Koetter's shift from coordinator to head coach hasn't exactly been a boon for the Buccaneer offense.
I keep going back to 2015, when Koetter served as Lovie Smith's offensive coordinator during Jameis Winston's rookie season.
With Winston taking every single snap, the Bucs averaged 21.4 points and set a franchise record for total yards. The ground game was particularly robust, ranking No. 5 in the league in yards (2,162) and No.2 in average yards per carry (4.8).
Opposing defenses had to respect Winston's play-action because Doug Martin and Charles Sims proved to be a formidable tandem. Martin finished as the NFL's second-leading rusher while Sims was incredibly efficient, adding more than 1,000 yards from scrimmage backing up an All-Pro back.
Those were the days.
That offensive balance eroded last season, when Martin was hurt, then suspended, and Sims was ineffective. Tampa Bay's offensive line failed to open many holes in 2016, but a defensive surge triggered a five-game winning streak and nobody seemed to notice the Bucs weren't good enough in front of Winston.
Now, you can't help but notice how this offensive front gets pushed around on a weekly basis, despite the presence of J.R. Sweezy, who was supposed to supply a nasty streak.
Tampa Bay is on pace to attempt 99 fewer runs than in 2015, when Koetter didn't have all the responsibilities that come with the head coach position. Instead of rushing for 2,162 yards, these Bucs are on pace for 1,310 on the ground. Instead of averaging 4.8 yards, this group averages 3.7 yards per carry.
That's a sickly number, particularly when you realize the Bucs hadn't suffered an injury up front all season until Sunday, when Donovan Smith hurt his knee.
Lost Focus
Peyton Barber kept breaking tackles against the Saints last weekend — and still ended up with lousy rushing numbers. Martin has done very little in the past four games and Sims has disappeared.
At some point, the men up front have to take responsibility for an offense that has topped the 17-point mark only four times in eight games.
"Peyton did do a good job of breaking tackles and running after first contact," Koetter says, "but when you really look at the carries, Doug didn't really have great opportunities. He had a clean hitter on him way too often."
In 2015, Winston was throwing to Mike Evans, Vincent Jackson, Austin Seferian-Jenkins, Brandon Myers, Donteea Dye and Louis Murphy. Now he's surrounded by more talented targets yet the Bucs are averaging almost two points less per game.
Before anyone tries to run Winston out of town, how about focusing on running the football?
Steady Miss
Demar Dotson, the longest-tenured Buc, has probably been the most consistent lineman. Kudos to Dotson, but it's not supposed to be that way. That honor is supposed to go to Smith, Ali Marpet or Sweezy.
A physical, well-coached offensive line can make up for a lot of weaknesses. If you can't block, you can't win in this league. Look no further than the Giants, Bucs and Broncos, who are a combined 6-18.
Buc fans have to look past Winston's maturity issues and place the blame where it belongs … in the engine room.
With rare exception in franchise history, the Bucs haven't drafted and developed Pro Bowlers along the offensive line. That's a trend that has to change because this team doesn't impose its will.
In January, Buc owners will be tempted to impose theirs.
Ira Kaufman is the most beloved, revered and esteemed Buccaneers columnist in town. He has hung his hat at JoeBucsFan.com world headquarters since July 2016. Tampa Bay's only Pro Football Hall of Fame voter, Ira busts out columns here every Monday, Wednesday and Friday, and his award winning podcasts fire Tuesdays and Thursdays. You can also see Ira every football Sunday at 10:30 a.m. on FOX-13, Scott Smith's Tailgate Sunday.