Ex-Buc Says Donovan Smith Has To Go
November 4th, 2017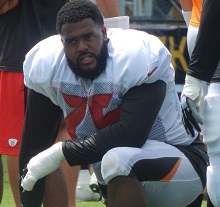 Legions of Buccaneers fans are eager to launch third-year left tackle Donovan Smith from the roster.
Now they have company in a former Bucs offensive lineman.
A guy who manned right guard for seven years in Tampa Bay, Ian Beckles, has manned a local microphone for much longer than that. Talking Bucs now mostly via his In The Trenches podcast on RadioInfluence.com, Beckles remains down on Gerald McCoy, but this season he has a new target: Smith.
"Our offensive line, you know, there's times where I think they play well enough to win. I just think they're average to below average and that's it," Beckles said this week. "I don't see a lot of movement. I don't see a lot of mean play. I don't see guys punishing anybody, and that's what you see on great football teams. Sweezy's supposed to be this mean dude, um, I'm not really seeing it.

"I don't know really where our strength is. You say you really want to run at the strength. I don't see a strength on our offensive line. Both our guards to have played shoddy against the Panthers. … So offensive-linewise it ain't pretty.

" …We have some players [across the team] that are consistently poor. Donovan Smith. I don't know his contract situation, next year, groom somebody else to go over there. Not only does he get his ass kicked a lot, there's a lot of missed assignments and a lot of penalties, too."
Regular listeners of Beckles this year know his favorite on the O-line is Ali Marpet, but Beckles has had enough of Smith.
Smith might be having his worst season as a Buccaneer. But Joe contends 24-year-old Smith remains an average starting left tackle in the NFL, and he's got a lot of durability and lots of upside. The Bucs have far greater problems to address.
Joe predicts Smith will have a strong game Sunday when he squares up against standout pass rusher Cameron Jordan of the Saints.