Bucs Officials Restrained Todd Monken From Atlanta Fans; Adrian Clayborn Speaks & More
November 27th, 2017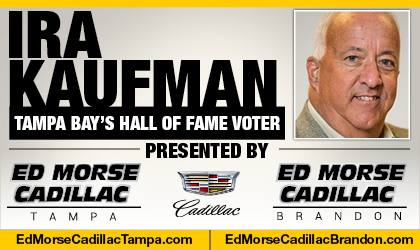 Ira Kaufman is the most beloved, revered and esteemed Buccaneers columnist in town. He has hung his hat at JoeBucsFan.com world headquarters since July 2016. Tampa Bay's only Pro Football Hall of Fame voter, Ira busts out columns here every Monday, Wednesday and Friday, and his award winning podcasts fire Tuesdays and Thursdays. You can also see Ira every football Sunday at 10:30 a.m. on FOX-13, Scott Smith's Tailgate Sunday.
BY IRA KAUFMAN
Postcard from Atlanta.
First look at cavernous Mercedes-Benz Stadium, check.
Tasty beet salad at the world's busiest airport, check.
Buc victory? Not so fast.
It appears Tampa Bay will finish the season in a dreary limbo — not nearly good enough to snap a playoff drought that will now reach 10 years and not awful enough to control its own draft destiny in April.
Here's a few reflections from the weekend in Atlanta:
I happened to be standing on the field when the final seconds ticked off, so I was watching as Buc players headed toward the locker room.
Some of the Falcon fans hanging over the stands above the tunnel were really giving it to the visitors, calling them losers and firing off expletives.
The next thing I knew, offensive coordinator Todd Monken was gazing up and firing off his own insults, directed toward one Atlanta supporter in particular. Monken, rumored to be a candidate for the vacant Mississippi State job, had to be restrained by team personnel as the situation threatened to turn really ugly.
When I saw Monken in the locker room, he was still upset about the loss but had cooled off enough to discuss the incident.
He said he spotted a young Buc fan in the stands above the tunnel and flipped a souvenir toward him. But instead of arriving at the intended target, the souvenir was grabbed by a Falcon supporter — who refused to hand it over to the kid in pewter.
That selfish act infuriated Monken, who began gesturing toward the loser wearing Atlanta garb. But instead of making a youngster's day by doing the right thing, this clown just kept smiling down at Monken.
If that Falcon creep reads this column, he can still make amends by sending the souvenir to One Buc Place and letting the team try to find the youngster in question.
Meanwhile, get a life, you pinhead.
Enemy View
After spending some time in a somber Buc locker room, I headed over to the Atlanta side. I wanted to say hello to Raheem Morris, but he was already gone.
Then I spotted Adrian Clayborn over in the corner, getting dressed.
"Hey, stranger," I said as Clayborn had his back to me.
"What are you doing here?" he said with a smile, extending his hand.
Clayborn has been a key performer for Atlanta's pass rush, but he was handled well on Sunday as Donovan Smith had an excellent game. The Falcons knew they had been tested as Tampa Bay tried to rally from a 27-6 deficit.
"They had a good game plan and they executed it well," Clayborn said.
"I used to face Julio Jones twice a year and now it's nice being on his side. He's an amazing player and an amazing person."
Clayborn always seemed to be hurt when he was a Buccaneer, but he has fit in well with the defending NFC champs.
"It's going good," he said. "If I stay healthy, the sky's the limit for me. I'm not liking the chip blocks I'm getting now, but I've just got to deal with it. I guess it's a sign of respect."
I didn't see Smith getting a lot of help on Sunday. Most of the time he took Clayborn on by himself and kept him off Ryan Fitzpatrick.
The Final Gasp
Julio Jones was obviously the player of the game, but the Bucs had a chance … a big chance. After Kendell Beckwith's forced fumble, the Bucs faced second-and-2 from the Atlanta 19.
Pass, pass, pass.
Can you imagine what Demar Dotson, the longest-tenured Buc, was thinking after Tampa Bay coaches showed no faith in a ground game that was pretty darned effective to that point.
Koetter made the right call by going for it on fourth-and-1, trailing 27-20, but 330-pound Dontari Poe pushed aside Kevin Pamphile and applied heat down the middle.
Fitzpatrick couldn't get much zip while throwing off his back foot and his pass intended for Cameron Brate fell incomplete.
Game over.
"They went big and passed the ball," said Atlanta safety Keanu Neal.
"I was expecting a run, but they tried to get us with a play-action pass."
Fitzpatrick praised Koetter's play call and blamed himself for not making it work.
"We had some major momentum there and that was obviously the play of the game that wasn't made," he said. Clayborn knew the fourth-down failure was Tampa Bay's last gasp.
"That was huge for us," he said. "If they score there, who knows what would have happened?"
We'll never know, and that's a pity.