Smart Calls From The Hall
November 22nd, 2017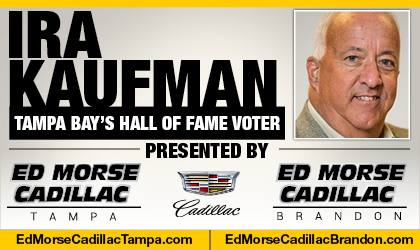 Ira Kaufman is the most beloved, revered and esteemed Buccaneers columnist in town. He has hung his hat at JoeBucsFan.com world headquarters since July 2016. Tampa Bay's only Pro Football Hall of Fame voter, Ira busts out columns here every Monday, Wednesday and Friday, and his award winning podcasts fire Tuesdays and Thursdays. You can also see Ira every football Sunday at 10:30 a.m. on FOX-13, Scott Smith's Tailgate Sunday.
BY IRA KAUFMAN
Bravo to my fellow selectors.
The men and women on the Pro Football Hall of Fame voting board were smart enough to choose three ex-Buccaneers among the 27 semi-finalists for the Class of 2018.
There is one more hurdle to cross before John Lynch, Ronde Barber and Simeon Rice make it into that Minneapolis discussion room on the day before the Super Bowl.
In January, the list of 27 former players will be whittled down to 15 modern-day finalists whose accomplishments will be debated by 48 selectors, including yours truly.
As the lone Tampa Bay representative, I may be called upon to make multiple presentations Feb. 3. It would be a privilege to state the case for three members of an iconic defense that powered the 2002 Bucs to the pinnacle of pro football.
With Warren Sapp and Derrick Brooks already fitted for gold jackets, there's a possibility that five players off that Buc defense will eventually end up with busts in Canton.
And why not?
For every season between 1997-2005, Tampa Bay ranked No. 9 or better in both scoring defense and total defense. That's a nine-year stretch of dominance that has rarely been matched in NFL history.
Travesty Averted
Lynch came along in 1993, Barber was drafted in 1997 and the Bucs signed Rice as a free agent in 2001. It all culminated in 2002, when Barber, Brooks, Lynch, Rice and Sapp starred on what I believe is the best pass defense of the Super Bowl era.
It would be shocking if Lynch doesn't advance to the final 15 in January. He has been in the room in each of the last four years and has survived the preliminary cut from 15 to 10 in each of the past two years.
I've got some fresh material for my next Lynch presentation, but remember that a maximum of five modern-day candidates can be elected in any class. That means at least 10 finalists go away disappointed every year.
It would have been a travesty if Barber failed to make the group of semi-finalists in his first year of eligibility. He may be the most unique defensive back this league has ever seen in terms of durability and versatility.
"Ronde was an undersized corner, but he was really smart, really clever and he was willing to show up in run support," CBS analyst Rich Gannon told me before a recent Bucs game. "He was a complete player at that position."
I don't want to hear any nonsense about Barber being helped by the Tampa 2 scheme. Shall we penalize Joe Montana because he excelled at Bill Walsh's West Coast offense?
Barber also happened to turn in the biggest play in franchise history, taking a Donovan McNabb interception to the house to seal the NFC title game and close down the Vet in style.
Simeon Stage 1
It's about time Rice got some love from the Hall of Fame panel.
Unless you're a player with the stature of a Brooks or Sapp, you usually advance toward Canton in stages. Now Rice finds himself taken seriously as a Hall of Fame candidate, and that's an crucial first step.
In 2013, Lynch made the list of semi-finalists but was not among the final 15. The same thing could happen to Rice in January, but he has already made significant strides in terms of his candidacy.
Five Hall of Fame players off the same defense? It's been done before during the Super Bowl era.
The Green Bay teams that won the first two Super Bowls featured six Hall of Fame defenders — Herb Adderley, Willie Davis, Henry Jordan, Ray Nitschke, Dave Robinson and Willie Wood. The 1969 Chiefs boasted a stellar defense led by five Hall of Famers — Bobby Bell, Buck Buchanan, Curley Culp, Willie Lanier and Emmitt Thomas.
Sapp and Brooks are pining for more pewter company in the Hall. I'm not sure how this saga will end, but Tuesday's announcement was a heck of a start.
Here's the list of 27 Hall semifinalists, per CBSSports.com. It's likely five will be voted to the Class of 2018.
Ronde Barber, CB/S: Buccaneers (1997-2012)
John Lynch, FS: Buccaneers (1993-2003), Broncos (2004-07)
Simeon Rice, DE: Cardinals (1996-2000), Buccaneers (2001-06), Broncos (2007), Colts (2007)
Steve Atwater, S: Broncos (1989-1998), Jets (1999)
Tony Boselli, T: Jaguars (1995-2001) Texans (2002, injured reserve)
Isaac Bruce, WR: Rams (1994-2007), 49ers (2008-09)
LeRoy Butler, S: Packers (1990-2001)
Don Coryell, Coach: Cardinals (1973-77), Chargers (1978-1986)
Jimmy Johnson, Coach: Cowboys (1989-1993), Dolphins (1996-99)
Roger Craig, RB: 49res (1983-1990), Raiders (1991), Vikings (1992-93)
Brian Dawkins, S: Eagles (1996-2008), Broncos (2009-2011)
Alan Faneca, G: Steelers (1998-2007), Jets (2008-09), Cardinals (2010)
Torry Holt, WR: Rams (1999-2008), Jaguars (2009)
Steve Hutchinson, G: Seahawks (2001-05), Vikings (2006-2011), Titans (2012)
Joe Jacoby, T: Redskins (1981-1993)
Edgerrin James, RB: Colts, (1999-2005), Cardinals (2006-08), Seahawks (2009)
Ty Law, CB: Patriots (1995-2004), Jets (2005, 2008), Chiefs (2006-07), Broncos (2009)
Ray Lewis, LB: Ravens (1996-2012)
Kevin Mawae, C/G: Seahawks (1994-97), Jets (1998-2005), Titans (2006-09)
Karl Mecklenburg, LB: Broncos (1983-1994)
Randy Moss, WR: Vikings (1998-2004, 2010), Raiders (2005-06), Patriots (2007-2010), Titans (2010), 49ers (2012)
Leslie O'Neal, DE: Chargers (1986, 1988-1995), Rams (1996-1997), Chiefs (1998-1999)
Terrell Owens, WR: 49ers (1996-2003), Eagles (2004-05), Cowboys (2006-08), Bills (2009), Bengals (2010)
Richard Seymour, DE/DT: Patriots (2001-08), Raiders (2009-2012)
Brian Urlacher, LB: Bears (2000-2012)
Everson Walls, CB: Cowboys (1981-89), Giants (1990-92), Browns (1992-93)
Hines Ward, WR: Steelers (1998-2011)