WDAE-AM Apologizes To Bucs Fans
October 17th, 2017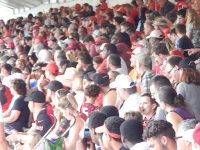 A radio station that repeatedly claims it's devoted to Buccaneers fans and coverage of the team took a nasty shot at hardcore Bucs fans on Sunday — within minutes of one of the most painful Tampa Bay losses of this decade.
Cruel it was.
It came via Twitter, from the official WDAE-AM 620 account. The offending Tweet was deleted but not before it was seen by many thousands of Bucs faithful as they tried to recover and writhed in agony.
WDAE took a shot at the Stick Carriers fan group and its many thousands of supporters.
Bucs Uncensored Podcast host Justin Pawlowski shared the offensive Tweet several times and gave his two cents. Here's one example:
It's sad the sports radio station in Tampa hates #Bucs fans & TRIES to make jokes when Bucs lose. It's also why no one listens to them! 🤗 pic.twitter.com/WEji7pmWI6

— Justin Pawlowski (@CommishOnline) October 16, 2017
When Joe saw the offensive Tweet from WDAE on Sunday night, Joe shared it with the following message: "It's always cute when those paid to understand fans, and to lecture them, are clueless to the roller coaster ride of the hardcore supporter."
For Joe, it really was deplorable for WDAE to kick fans when they were at their lowest. Mean-spirited stuff.
WDAE program director appeared to agree when he issued an apology Sunday night on Twitter.
Apologies to all the #Bucs fans for the in-appropriate message sent this evening

It has been removed, and has been addressed. #SiegetheDay

— John Mamola (@JohnMamola) October 16, 2017
This just saddens Joe. Joe would love to live in an exciting sports town anchored by a kick-ass sports radio station at one with the pulse of the sports community. But Tampa doesn't have that any longer.
Not only are WDAE listeners now fed the national Dan Patrick show every morning for three hours instead of local sports talk, the station has lost touch with its audience, and kicking JoeBucsFan off their airwaves in July, citing the Bucs Uncensored Podcast, is only one small example.
Sunday's offensive Tweet was deleted, but it's message and the disgust that prompted it is very much alive.