Lavonte David Points To Bad Practice Habits
October 17th, 2017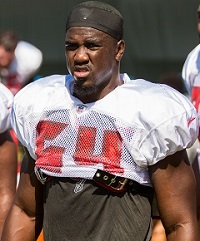 The first step to any solution is identifying the problem.
It seems Bucs captain Lavonte David has done that.
Speaking on the Buccaneers Radio Network yesterday, David was asked about what caused the brutal start in Arizona and/or what can prevent it.
David said fixing waning intensity leading up to games will be key.
"I think it all starts, you know, with practice habits," David said. "I think it all starts with practice habits leading up to the week. You know, there's been some periods where you're not going as hard, and the next period you're going hard, just dropoffs and things like that. So we made an emphasis in the locker room, you know, we gotta have a better sense of urgency. We're coming out to play a football game, you know, we're coming out to play football, when you step on that field you better be ready from the first snap to the last snap. We gotta do a better job of that."

Later David added, "Everybody gotta have the same mindset, same attitude every time they come on the field — that they're going to come out here and it's going to be a physical, hard, no-BS football game. That's just the type of mentality we have to have."
Joe can't stomach typing anything else on this one.
After a Tuesday players day off, practice resumes tomorrow.