TV Map For Bucs-Cardinals Game
October 14th, 2017
Here is where the Bucs-Cardinals telecast can be found in the continental United States without the need for NFL Sunday Ticket or a bar.
Basically, if you live in Arizona, the greater Atlanta area or most of Florida, you won't have to run to the local watering hole to watch the game. It will be broadcast on your FOX over-the-air affiliate, called by Kenny Albert and Charles Davis.
As always, this FOX NFL map for Sunday's games is courtesy of 506sports.com.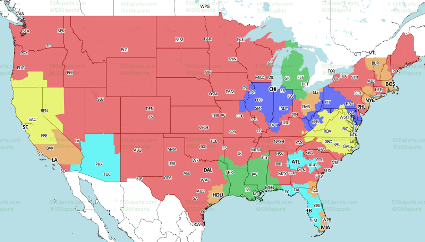 Red: Green Bay @ Minnesota
Blue: Chicago @ Baltimore
Green: Detroit @ New Orleans
Yellow: San Francisco @ Washington
Brown: Los Angeles Rams @ Jacksonville
Light blue: Tampa Bay @ Arizona