Ira Kaufman's NFL Picks Against The Spread
October 14th, 2017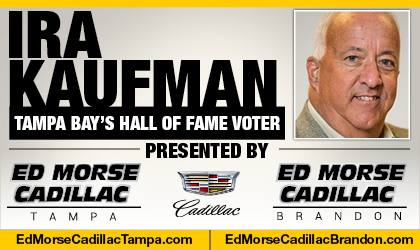 Welcome to a new feature on JoeBucsFan.com. Joe has challenged Ira Kaufman, Tampa Bay's only Hall of Fame voter, to pick against the spread this season for a $500 prize. Every Friday, Ira will type out his picks for each Friday-through-Monday game. If he hits at 53 percent or better for the regular season, then Ira gets $500 in gift cards to Abe's Place in Clearwater, home of historically amazing food and 44 craft beers on tap. Feel free to send Ira your stone cold locks on Twitter, @ikaufman76. The sage of Tampa Bay sports could always use some help.
BY IRA KAUFMAN
This handicapping gig is getting out of hand.
Picking against the NFL spread is never a walk in the park, but I'm getting mugged every week. A 4-9 slate has dropped me to 28-44 for the season, so that 53 percent threshold I'm shooting for looks clearly out of reach.
Still, I'm a competitor and Brooklyn boys don't quit when the going gets tough. Here's another chance for redemption:
TEXANS minus-9 1-2 vs. BROWNS. Houston is missing some key defensive pieces, but Deshaun Watson should thrive at home against a woeful franchise that could be staring at 0-16.
JETS plus-9 1-2 vs .PATRIOTS. Despite squeaking out a win against the Bucs, New England just doesn't look quite right.Tom Brady will take some hits in the Meadowlands and the surprising Jets boast a solid ground game.
FALCONS minus-12 1-2 vs. DOLPHINS. Miami's defense is decent, but Jay Cutler is in no position to match spirals with Matt Ryan.
SAINTS minus-4 1-2 vs. LIONS. Detroit appears to be fading and Drew Brees has had an extra week to prepare. Dumping Adrian Peterson should provide clarity for Sean Payton's run game.
PACKERS minus-3 at VIKINGS. Minnesota plays bigger at home but Aaron Rodgers is at the peak of his powers. Just ask the Cowboys.
RAVENS minus-6 1-2 vs. BEARS. Mitch Trubisky will make some throws and he will also make some rookie mistakes against a stout defense on the road.
49ERS plus-10 1-2 at REDSKINS. Washington needs this one to hang close to the Eagles in the NFC East. San Francisco is desperate to find the winning edge after dropping some close games.
RAMS plus-2 1-2 at JAGUARS. Two of the league's premier rushing attacks clash and the Rams boast the better quarterback in Jared Goff. Jacksonville CB Jalen Ramsey has been outstanding.
BUCS minus-1 1-2 at CARDINALS. In a division as competitive as the NFC South, the Bucs can't afford to trip up in the desert against a struggling opponent. This is one they have to have.
CHIEFS minus-4 1-2 vs. STEELERS. Pittsburgh knocked out KC in the playoffs last year at Arrowhead, but the 2017 Steelers aren't as good and the Chiefs are a lot better this time around
CHARGERS plus-2 at RAIDERS. Oakland ranks on the short list of the NFL's most disappointing teams and Philip Rivers should shred a suspect secondary.
BRONCOS minus-12 vs.GIANTS. Eli Manning's world is crumbling all around him and the Denver defense is no picnic on his best day. This one could get real ugly.