Roberto Aguayo Lands In Carolina
October 25th, 2017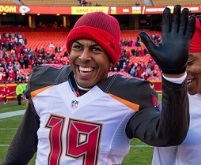 Roberto Aguayo has a job kicking footballs again.
A second-round pick of the Buccaneers last year, Aguayo is now a member of the Stinkin' Panthers, who make their way to Tampa on Sunday.
Aguayo was signed to Carolina's practice squad. The Panthers were searching for an emergency backup for kicker Graham Gano, who has had knee issues this season but hasn't missed a game since 2012.
What a typical Bucs soap opera it would be if somehow Aguayo was activated Sunday and kicked against the Bucs.
Oh, boy. Say it ain't so.
If so, however, Joe likes the sound of that. Aguayo handling that kind of pressure is as likely as Chris Baker registering a sack.