"See If Someone Is Stupid In The Back End"
October 6th, 2017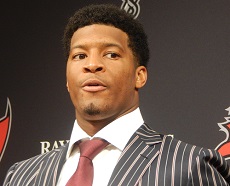 A former Buccaneers quarterback has weighed in — in great detail — on the questionable decision of Jameis Winston on the final play of last night's game.
Truly great stuff in this NBC Sports video below featuring ex-Buc QB and Chucky punching bag Chris Simms with Mike Florio, the ProFootballTalk.com guru.
Jameis, from the New England 19 yard line, fired early and short of the goal line to O.J. Howard, as a sea of Patriots defenders played center field in the end zone leading 19-14.
Simms didn't bash Jameis, explaining the play's goal in full detail. But Simms thought the recognition and approach was all wrong.
"It was a three-man rush," Simms said of the final pass for the win in the red zone.

"And what we've seen great quarterbacks do, [Tom] Brady included, when they have three-man rush. Take your time. Stress the secondary out. See if someone is stupid in the back end and, you know, takes the bait and goes and chases somebody else when Jameis looks. And then make a throw. That's what Jameis is great at."
Excellent insight from Simms. Joe agrees and thinks Jameis would have been better off turning that last play into a backyard football scene with an eye toward the Bucs' biggest bodies breaking free.
Again, stellar video with several takes on the game. Props to Simms for thanking Nick Folk for now keeping him from being the worst Buccaneer to ever wear No. 2.