Ira Kaufman's Week 7 Picks Against The Spread
October 21st, 2017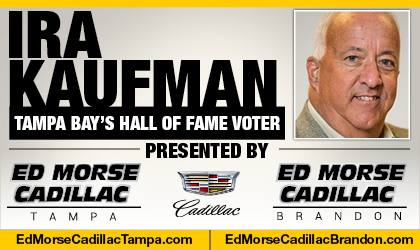 Welcome to a weekly feature on JoeBucsFan.com. Joe has challenged Ira Kaufman, Tampa Bay's only Hall of Fame voter, to pick against the spread this season for a $500 prize. Every Friday, Ira types out his picks for each Friday-through-Monday game. If he hits at 53 percent or better for the regular season, then Ira gets $500 in gift cards to Abe's Place in Clearwater, home of historically amazing food and 44 craft beers on tap. Feel free to send Ira your stone cold locks on Twitter, @ikaufman76. The sage of Tampa Bay sports could always use some help.
BY IRA KAUFMAN
There's a sliver of light peeking through the clouds.
We finally showed we could reach the .500 mark with a 6-6 record last week. There's no reason to break out the brass bands because a cumulative mark of 34-50 against the spread remains woeful.
But progress is progress, so here we go in Week 7 trying to keep the mojo going.
TITANS minus-6 at BROWNS. It's time for Tennessee to make a move with a healthy Marcus Mariota. The Titans haven't played up to their potential to this point, but the Browns are still the Browns.
JAGUARS minus 3 1-2 at COLTS. Jacksonville plays some serious defense and Indy doesn't boast a lot of weapons. If the erratic Jags don't self-destruct, they should walk out as winners.
BENGALS plus-5 1-2 at STEELERS. Cincy is starting to play with confidence after an awful getaway and a win at Heinz Field would be huge. I'm still not completely sold on the Steelers.
VIKINGS minus 5 1-2 vs. RAVENS. Minnesota's defense plays bigger at home and Joe Flacco isn't surrounded by elite skill players.
DOLPHINS minus-3 vs. JETS. Miami's offense doesn't scare anyone — except Dolphin supporters. Still, Ndamukong Suh and company will make enough plays to down the scrappy Jets.
BILLS minus 3 1-2 vs. BUCS. The NFL's stingiest scoring defense will give Jameis Winston fits and LeSean McCoy is due for a breakout game.
PANTHERS minus-3 at BEARS. Mitch Trubisky will experience some growing pains against the league's No. 4 defense in the Windy City.
PACKERS plus 4 1-2 vs. SAINTS. Mike McCarthy is savvy enough to construct a winning game plan against the surging Saints, even with Aaron Rodgers on the sidelines.
RAMS minus 3 1-2 vs. CARDINALS. Jared Goff has won me over with his poise and the Rams will move Carson Palmer out of his comfort zone.
49ERS plus-6 vs. COWBOYS. John Lynch is still waiting for his first win as a GM, but San Francisco has been outscored by only 33 points in six setbacks.
GIANTS plus-5 vs. SEAHAWKS. New York comes off a very solid effort in upsetting Denver while you never know which Seattle team will show up on the road.
CHARGERS minus-1 vs. BRONCOS. Denver still boasts the NFL's top-rated defense, but Melvin Gordon is a versatile threat and Philip Rivers never quits.
FALCONS plus 3 1-2 at PATRIOTS. Atlanta will rebound from last week's collapse against Miami, extracting a small measure of revenge for that Super Bowl debacle.
REDSKINS plus 4 1-2 at EAGLES. Carson Wentz has been sensational on third down, but Kirk Cousins is the NFC's top-rated passer.