Risks, Connections & Coach Malcolm
October 4th, 2017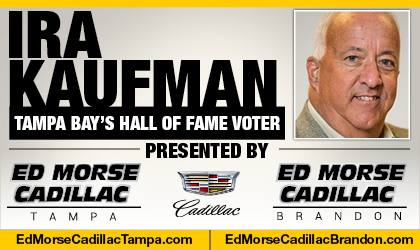 BY IRA KAUFMAN
It's hard to believe, but the man of the hour might be lost in the shuffle Thursday night.
When a head coach and a quarterback each bound for Canton comes into your stadium for a nationally televised matchup, it's easy to relegate a Ring of Honor recipient to the back burner.
That would be a travesty.
Malcolm Glazer, who will be memorialized during a halftime ceremony, is no bit player in this drama.
Yes, it's an important game and yes, Tom Brady and Bill Belichick are prime-time figures in the history of the NFL, but Malcolm Glazer deserves his place in the spotlight.
"My dad would have been humbled and proud," Bucs co-chairman Joel Glazer said regarding the patriarch of a franchise resurrection. "And it would have been extra special to go into the Ring of Honor in the same year as Jon Gruden because they had a wonderful relationship."
When Malcolm purchased the Bucs in 1995, they had endured a 12-year playoff drought. A year later, he hired Tony Dungy as head coach and a new era of success quickly ensued.
"To take a chance on Tony speaks to who Malcolm was as a person and as a businessman," Ronde Barber said before Sunday's matchup against the Giants. "He believed in his instincts and that's what makes great people great."
Dungy and Malcolm Glazer forged a deep friendship that went well beyond One Buc Place. When Dungy was inducted into the Pro Football Hall of Fame 14 months ago, he singled Malcolm out in his acceptance speech.
Connection
Glazer and Gruden were also close.
"I wasn't in on their conversations, but Jon always spoke so highly of him and respected him," said Cindy Gruden. "They definitely had a connection. Malcolm had a big heart. He was a special person and he came from nothing. The older you get, the more you look at someone like that and see what a person can do."
Malcolm Glazer, who died in 2014 at the age of 85, started small and dreamed big.
He thought it was amusing when some NFL observers scoffed at his $192 million bid for a moribund franchise. Guess what? He did his research and he knew better.
Years later, when he saw an opportunity to buy Manchester United, he was determined to add the soccer powerhouse to the Glazer portfolio. The purchase price came with some withering criticism overseas, but once again, Malcolm Glazer trusted his instincts.
"The best way to judge Malcolm as an owner is to see the legacy he left for his kids and the way they handle themselves," said Barber. "One thing I'll always remember is he always walked into our locker room before each game and shook everyone's hand … and I mean everyone."
Coach Malcolm
My personal memories of the man haven't faded over the years.
I can remember waiting at Tampa Airport on a flight to Phoenix for the March owners meetings. When my wife and I boarded the plane, there was Malcolm and his wife sitting right in front of us — in coach.
You can call that being frugal. I call it never forgetting where you came from.
I also will never forget the smile on his face after the Bucs trounced the Raiders in the Super Bowl.
"My dad was feeling good about the game until the Raiders started mounting a little comeback," Joel said. "But it was all good at the end and he was thrilled being with all the players and their families to celebrate. He was very proud of what the entire organization had accomplished."
On Thursday night, Buc Nation will have an opportunity to salute perhaps the most important figure in franchise history. Malcolm Glazer never threw a pass or made a tackle, but he trusted his instincts and turned a national joke into a Tampa Bay treasure.
Step aside, Belichick and Brady. Big man passing through.
Ira Kaufman is the most beloved, revered and esteemed Buccaneers columnist in town. He has hung his hat at JoeBucsFan.com world headquarters since July 2016. Tampa Bay's only Pro Football Hall of Fame voter, Ira busts out columns here every Monday, Wednesday and Friday, and his award winning podcasts fire Tuesdays and Thursdays. You can also see Ira every football Sunday at 10:30 a.m. on FOX-13, Scott Smith's Tailgate Sunday.