Ira Kaufman's 10 Takeaways From Bucs-Panthers
October 29th, 2017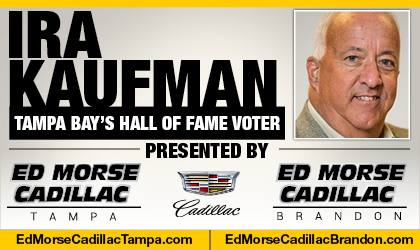 Ira Kaufman is the most beloved, revered and esteemed Buccaneers columnist in town. He has hung his hat at JoeBucsFan.com world headquarters since July 2016. Tampa Bay's only Pro Football Hall of Fame voter, Ira busts out columns here every Monday, Wednesday and Friday, and his award winning podcasts fire Tuesdays and Thursdays. You can also see Ira every football Sunday at 10:30 a.m. on FOX-13, Scott Smith's Tailgate Sunday.
BY IRA KAUFMAN
The unthinkable is sinking in, dark and scary.
By next weekend, the Bucs could be four games out of first place in the NFC South, hopelessly out of playoff consideration midway through the season.
You can only imagine the disappointment of the Glazers Sunday as they departed their suite for the elevator down to the carport at Raymond James Stadium. They began the year thinking they owned a franchise on the rise behind a franchise quarterback.
On a blustery day in Tampa, those beliefs are now in question. Here's 10 reasons why:
* If you lose and you're exciting, fans and media will cut you some slack. That wasn't the case in today's game — which offered zero entertainment value. Fans sat on their hands, waiting for a reason to stand and cheer. They're still waiting.
* I'm still waiting for a balanced offense, you know, the kind Dirk Koetter directed in 2015 to a franchise record for total yardage. In a game that was close most of the way, Tampa Bay ran 22 times and Jameis Winston dropped back to pass on 41 occasions. Carolina's ratio was 31 runs, 32 throws.
* In Koetter's defense, the running game continues to fizzle. Doug Martin had no rushing lanes in the opening half, often hit in the backfield. But it's also true that Martin isn't making the initial defender miss, a characteristic of his two Pro Bowl seasons. May I suggest that Peyton Barber deserves to emerge from the shadows. After gaining 47 yards in 10 carries against Chicago in the opener, Barber has only two rushing attempts in six games. Give the kid a chance.
* This team takes way too long to find its offensive rhythm. The Bucs have scored only 88 points through the first three quarters, then they've tacked on 60 points in the final 15 minutes. Some of those are garbage points in games that were out of hand. Good teams impose their will from the start.
* Here's another example why some stats can be misleading. On the season, the Bucs have been outgained by an average of only 10 yards per game and outscored by only three points per game. Who cares? The last time I checked, Tampa Bay is firmly in the division cellar. End of story.
* There are times when a team generates an effective pass rush, even if the sack total doesn't reflect the pressure. Getting quarterbacks out of their comfort zone is critical, even if you don't put them on the ground, But there's no way Mike Smith can suggest there was heat on Cam Newton when the Bucs didn't even register a single QB hit. That's correct, zeroes across the board.
* Kendell Beckwith may have hit the rookie wall. He hasn't made many notable stops the past two weeks since shifting back to the strong side upon Kwon Alexander's return to the middle. All that said, he's still going to be a heck of a player.
* In the past two weeks, the Bills and Panthers have combined to convert 18-of-33 third-down situations. That's why Mike Smith was reaching for the Maalox Sunday evening, even though his defense played well enough to win.
* According to Koetter, the brisk northwest wind was a contributing factor in Winston's struggles as he posted a passer rating of 49.2, his lowest mark in the past 19 games. For me, the answer is blowing in the wind — Winston hasn't progressed to the degree Buc fans expected in his third season under Koetter's guidance.
* If the Bucs lose at the Superdome, it might be wise to sit Winston until he's fully healthy and able to practice during the week. Winston's long-term health is a top priority and the Glazers may remind Koetter and Jason Licht of exactly that if the New Orleans matchup doesn't go well.