Great Defense; Few Turnovers
October 27th, 2017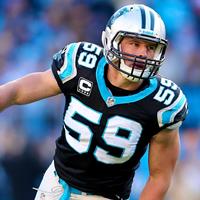 It's hard to be one of the best defenses in the NFL and also be a defense that forces very few turnovers.
However, the Panthers manage to pull that off.
Carolina has the NFL's third-ranked defense. They're good against the pass and the run. They allow just under 20 points per game, which is strong, especially considering the Panthers' offense has had its share of struggles and a load of turnovers.
But Carolina has just one interception this season and they haven't forced many turnovers.
With the Bucs facing the Panthers on Sunday, Joe has monitored various Panthers media all week, and a lot of ex-Panthers and analysts are calling for Carolina to re-commit itself to stripping balls and ballhawking through the air in practice. That's how inept they've been at forcing turnovers.
What the Carolina defense gets a lot of love for is tackling and hammering quarterbacks (24 sacks in seven games).
Nothing is going to come easy for the Bucs on Sunday. But on the upside, Tampa Bay played a nearly identical defensive scheme against nasty-good talent in Buffalo last Sunday and carved it up.