Dirk Koetter Talks Peyton Barber & Doug Martin Not Being In 2015 Form
October 29th, 2017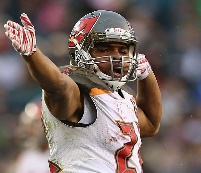 On Friday, a Buccaneers fan asked former winning head coach Dirk Koetter about an issue and a question mark in the Tampa Bay running game.
As a man of the people, Koetter gave a detailed answer.
Calling in live on the Buccaneers Radio Network, the fan asked if Doug Martin's 2017 inconsistency and not looking like his 2015 self is because he's not in game-shape due to his September suspension, and the fan wanted to know if Peyton Barber is buried on the bench because of poor production.
Good questions!
Here's Koetter's verbatim response:
"No, Doug is in game shape, so I don't think it's related to his game shape," Koetter said of Martin's inconsistency. "You know, Peyton hasn't gotten any touches because there's only one ball and there's only so many carries to go around. It's not production-based; when Peyton's got his chances, you know, he's done fine. And Peyton is playing a significant role on special teams. (laughs) You know, you gotta remember, fans gotta remember, if your starting quarterback's not doing well, they want the backup quarterback. If you're starting running back's not doing it, they always want something. 'Give us more. Give us more. Give us more. Give us more.' You know, coaches, I've never been around coaches that aren't trying to put the guys they think are going to do the best out there. We have high hopes for Peyton. He's a young player, he's continuing to improve, continuing to learn. Right now he's got more of a special teams role. That doesn't mean his [rushing] role couldn't be increased as we move forward."
Intriguing layers of stuff there.
If Joe had to offer a simple translation, it would go like this. "Yeah, Martin isn't very good but we don't think Barber is any better."
The Panthers defense is stout, and all-World linebacker Luke Kuechly is back on the field today. It'll be a tough afternoon for Martin to get the running game jump-started given his declining skills.