Smelling Another Five-Game Winning Streak
October 11th, 2017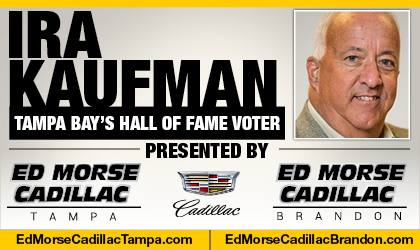 Ira Kaufman is the most beloved, revered and esteemed Buccaneers columnist in town. He has hung his hat at JoeBucsFan.com world headquarters since July 2016. Tampa Bay's only Pro Football Hall of Fame voter, Ira busts out columns here every Monday, Wednesday and Friday, and his award winning podcasts fire Tuesdays and Thursdays. You can also see Ira every football Sunday at 10:30 a.m. on FOX-13, Scott Smith's Tailgate Sunday.
BY IRA KAUFMAN
This was as close to a bye week as the Bucs are going to get during this strange season, so they need to pounce.
I'm smelling another five-game winning streak.
Why not? Tampa Bay reeled off five consecutive victories following the 2016 bye as a 3-5 team vaulted into playoff contention, awakening a slumbering fan base. Few supporters saw it coming, but the Bucs fixed a porous defense while establishing themselves as a franchise on the rise.
This time around, the Bucs haven't dug a prodigious hole. They find themselves 2-2 at the quarter-pole, and that .500 record seems about right for The Gang That Can't Kick Straight.
Adding to the challenge, the rest of the NFC South has lived up to expectations, with a cumulative 11-6 mark that ranks No. 1 among the league's eight divisions.
Heading into Sunday's matchup at Arizona, the Bucs will benefit from extra time to prepare. Lavonte David and Kwon Alexander could be back to join stud rookie Kendell Beckwith and if they all dress, the Bucs would arguably boast the premier linebacker unit in the NFL.
The Cardinals, missing their best offensive player, are so desperate to replace injured David Johnson that they just signed Adrian Peterson — a washout in New Orleans.
Righting The Wrong
We all know what happened the last time the Bucs ventured into the desert. They were not competitive in Week 2 last year against an Arizona team that finished 7-8-1.
Guess what? The Cardinals aren't very good this season, either. In the NFC, only the Bears have scored fewer points and only the Cowboys have allowed more.
The Bucs find themselves rare road favorites, and for good reason. Tampa Bay has a far superior roster and the Bucs will board a plane on Friday with close to a full arsenal.
Then it's on to Buffalo, home against the rejuvenated Panthers, back on the road to New Orleans and home against the surprisingly competitive Jets.
Is it crazy to think the Bucs can run that table and stand 7-2 when they journey to Miami to attack Jay Cutler and the game Hurricane Irma washed out?
The adjustments are far less daunting a year later.
Except for a lost weekend in Minneapolis, Tampa Bay's defense has been good enough. Based on Doug Martin's stellar effort against the Pats, the ground game could be ready to blossom. The offensive line is playing well.
If Jameis Winston starts to find DeSean Jackson on time and in space, this offense should take off.
Fixed?
At this point, the biggest repair job needs to come at kicker. Patrick Murray has to be a big step up from Nick Folk and if he's not, dump him and try someone else.
At midseason in 2016, the Bucs couldn't stop anybody. Right now, the Bucs are stopping themselves with an awful kicking game and an offense that isn't quite clicking the way it should be, given the talent at hand.
Dirk Koetter needs to be a more imaginative play-caller, and he knows that. He stresses balance, but the Bucs are throwing on 65 percent of their snaps … that's far from balanced.
If the Bucs roll out five wins in a row, no one should be shocked. Unlike last year, this isn't a reeling team that needs major renovation.
A tweak here, a tweak there, a few more healthy bodies and some reliability from Murray is all that's required for this team to get on a roll.
It starts Sunday in Arizona, where the Bucs seek payback and the start of something big.