Back To The Drawing Board
October 4th, 2017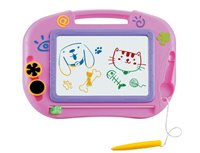 Joe has been hammering home for years the organizational ineptitude the Bucs have had in trying to develop an edge rush.
Joe's beaten this drum so badly, he's just about tapped out finding newfound ways to express his football rage and moral outrage over this subject.
It is a complete and total organizational #fail that spans three general manager administrations and five coaching staffs, who have gone through untold draft picks and burned through truckloads of Team Glazer loot in a fruitless effort to find/recognize/draft/sign/develop an edge rusher.
And when the friggin' team had a guy who could rush the passer, they let him go for no good reason!
At this point in the season, at this point in the past decade, the Bucs have likely hit rock bottom when it comes to an edge rush ("What edge rush?"). The Bucs are dead last in the NFL in sacks through three games with one — ONE!
Do you understand how many scrubs are playing that have one sack at this point in the season, and that is as many sacks as this entire Bucs squad? Unreal!
Yesterday, of course, Bucs defensive coordinator Mike Smith was peppered with questions about the edge rush ("What edge rush?"). It seemed Smith, like many Bucs fans, is simply exasperated with the edge rush ("What edge rush?").
"We've got to be better and we've got to be more productive though in terms of putting pressure on the quarterback and affecting the quarterback," Smith said. "We've got to do it, as coaches, a couple ways. We've got to look at what we're doing schematically first. Secondly, we've got to look at the guys that we're asking to do it and what we are asking them to do. That's something that we've really dove into the last two weeks after the way that we rushed the passer. There [are] some things I can do better. There [are] some things I think that all of us can do better. The guys that we've got are the guys that we've got and we certainly hope that we can produce more pass rush whether it is something that we do schematically, moving guys into different spots. We're willing to try anything when you have two games that you haven't had the production that you need."
Of course, the two guys the Bucs banked on to provide an edge rush ("What edge rush?") have hit significant bumps in the road. Noah Spence, who has the team's lone sack, blew out his surgically repaired shoulder on the first play of the game in Minnesota. Just like last year, Spence is basically flying with one wing.
Then there is oft-injured Jacquies Smith, who tore up his knee in the first game last year and hasn't seen a snap since after undergoing major knee surgery. The way winning Bucs coach Dirk Koetter and Mike Smith talk, there is no telling when Jacquies Smith can get on the field.
Mike Smith wasn't about to bawl in a towel over injuries, however.
"Nobody is 100 percent after Game One," Smith said.
Joe wrote many times that fans hoping for Jacquies Smith to provide 10 sacks off the edge is akin to hoping the tooth fairy leaves some change under your pillow tonight. With Spence, you talk about awful luck. When Joe was talking to him after the Vikings game, Joe was sick to his stomach hearing Spence recount how the injury happened, how he sucked it up and had his shoulder jammed back into place in an effort to stay on the field, and how his injury left him virtually one-armed. Again.
The thing is, there likely will be no fixes until March at the earliest. NFL teams aren't going to feel sorry for the Bucs and trade a quality pass rusher unless they can completely take Bucs AC/DC-loving general manager Jason Licht to the cleaners.