The Morning After
September 25th, 2017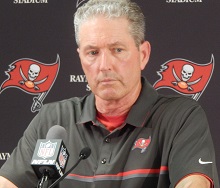 Joe is groping for words on this ugly Monday morning to try to explain how the Bucs completely missed the urinal yesterday and badly wet their shoes.
1. Just from reading social media posts from Bucs fans, not sure Bucs fans have been this depressed since Ricky Proehl beat Tampa Bay in the 1999 NFC title game. There is so much to unpack here, but Joe isn't sure there was an element of the Bucs that played halfway decent. The pass defense was embarrassed by Case Keenum (yet again). The run defense did OK after the first series, but just OK. It seemed like the rush defense played well compared to how the pass defense was getting slashed like a teenage girl in a Freddie Krueger flick. Pass rush? Surprise! There was none. Run game? What run game? Passing game? Pppfffttt. Three picks by America's Quarterback, Pro Bowler Jameis Winston? He looked better as a rookie in his second game then he did in the second game of his third season. There may be an NFL pattern here: Jameis doesn't believe in quick starts to games, and he also seems to have a knack for late starts to seasons. Joe is starting to tire of the Brett Favre comparisons. Yeah, both are gunslingers and both had supreme confidence in their ability but this just in: Favre won games with his arm. He overcame mind-numbing mistakes he made himself. We all hear how intelligent Jameis is and how talented he is and Joe doesn't doubt that. It's about time we start seeing evidence of that. This narrative of how Jameis can't change because that's who he is, well, that's growing weaker by the week. And this is coming from a guy proud to be a huge Jameis defender. That doesn't mean Joe is an ostrich.
2. Injuries: Holy cow. This defense is beat to hell. Lavonte David, Kwon Alexander, Gerald McCoy, Brent Grimes, Noah Spence, T.J. Ward. That is the very heart of the defense, their home run hitters. Who knows how long these guys are going to be out? All of a sudden, that Giants game this coming Sunday doesn't look so much like a W. Yeah, the Giants don't have an offensive line but guess what: without Spence the Bucs have no pass rush. None! So that right there cancels out the Giants' biggest sieve. If the Vikings were able to race up and down the field on the Bucs, then imagine what Odell Beckham, Brandon Marshall and Sterling Shepard can do. And five days later, why, hello Mr. Belicheat. This season very easily and quickly could unravel.
3. What running game? Jacquizz Rodgers led the Bucs in rushing with 15 yards. Yes, 15 yards! The longest run from scrimmage was four yards and both America's Quarterback, Pro Bowler Jameis Winston, and Rodgers shared that. Oh, but Chuck Sims caught a pass so that makes it all better, doesn't it? He had two carries for four yards for a robust average of two yards a carry. And Joe will be upfront here: If you bless your children from the same water fountain that Doug Martin drinks from, then you may want to skip the rest of this paragraph. No, Joe is not convinced in any way shape or form that Doug Martin, with three days of practice, will be the magic potion for this offense against the Fighting Belicheats… if Martin comes back. Then again, the way the Bucs are running the ball, what do they have to lose? They can't get much worse.
4. Perhaps the Bucs just aren't that good? We heard all summer how the Bucs have the most talent they've had in years. We have witnessed the good drafts, saw the good free agent signings. Yet they drop a rotten egg like they did at Minnesota? It's not like the Vikings, with a backup quarterback, are the 1984 49ers. But the Bucs sure made them look like the 1984 49ers. Joe is willing to bet the Vikings don't go to the Super Bowl. So to go to the Northlands and get absolutely curb-stomped like they did yesterday – when is the last time you saw a Bucs team get thrashed physically like this where half the defense seemed to have been waiting for an ambulance? That tells Joe this team has a ways to go. Joe doesn't think too many good teams go on the road to play an OK opponent and get throttled and physically pummeled like that.
5. Joe will share a locker room scene. It's hard to put into words, but Joe cannot tell you how frustrated Noah Spence was yesterday. He told Joe he blew out his shoulder on the first play from scrimmage. Wow, was he upset. The way he talked to Joe, it was like he just dropped major cash on a Bentley and a drunk without insurance T-boned him as he pulled out of the sales lot, only Spence was more distraught. Not emotional, but beside himself with frustration. Spence told Joe he had his shoulder jammed back into place on the field – that's a man right there – and he tried to play with the bum wing, but it was useless. For a split second, Joe thought Spence might tear up the way he said he had worked all offseason on specific moves and some of them he was convinced would work against the Vikings, but Spence never had a chance to use them because his shoulder was shot. And then he repeated how the injury was the same he experienced last year (not officially confirmed yet) and you could see in Spence's eyes that he could see an entire offseason of hard work and sweat p!ssed away on one play. Joe felt downright awful for Spence. Let's just hope the injury isn't as severe as Spence fears. This kid is a true warrior and the Bucs are fortunate to have a guy of his desire and passion on the roster.
Pillaging: During training camp, Joe just wasn't overly impressed with the offense but Joe waved it off because, well, it's preseason. Take away the points scored off turnovers against the Bears, and the Bucs offense simply has not been good. And the offense wasn't good in December, either. So maybe the preseason really was a window into the early weeks of the regular season? … Love Ali Marpet but he needs to work on his shotgun snaps. While Jameis struggled, he wasn't helped out by two errant snaps that left either Jameis juggling the ball, or scrambling to avoid a fumble. … Joe suspects Adam Humphries had very sore ribs this morning. Joe joked with him about that after the game and Humphries waved it off and said he was fine. He sure took some lumber to his ribs. Guessing he's having a worse morning than many Bucs fans. … Where was Peyton Barber yesterday? Can't tell Joe he couldn't have done any worse. … Joe knew the Bucs pass defense would take a hit without Brent Grimes, but Joe had no idea it would completely collapse the way it did. … The flu bug has hit the Bucs hard and Joe almost wonders how many guys were stricken but were too prideful to tell anyone and tried to play through it? Yes, the Bucs sure looked like 22 guys trying to play an NFL game with a flu. It was that dismal. … Joe isn't sure what it is called at Vikings games but it is a combination of a Vikings battle cry combined with war drums with a little bit of Gator Chomp/Warchant Chop thrown in. The folks stand in unison after the third quarter and some guy starts to slowly beat a giant drum and fans clap as one in some choreographed number and periodically yell "skol" as that Vikings horn blares. Apparently, skol is a battle cry the Norsemen used when they pillaged a city and did gnarly stuff to celebrate a successful rampage of a village. Just to witness and hear this tradition was pretty cool and obviously being in a dome, it got loud. it was very college-like. … Joe has been to Jerry's World which is a palace and to whatever the stadium is called in Houston, which is very nice and to Met Life Stadium in New Jersey which is better than OK. U.S. Bank in Minneapolis may be the best. Why? Well, unlike Jerry's World, you actually know you are in a football stadium. Jerry's World is fantastic but it could be any oversized arena. At U.S. Bank, even though it is a fixed-roof stadium, it has the feel of being outdoors because of all the windows. And in the west end zone, there is a tremendous view of downtown Minneapolis. … The city itself blew Joe's mind. Light rail only costing $1.75 one-way from the airport to the burbs and main stops in-between. Joe maintains some of the architecture, specifically the buildings in the government center district (one train stop from U.S. Bank Stadium) looks like pictures you see of Prague or Munich. Minneapolis is a leafy, clean city with a neat river running through it — the Mississippi River, which isn't that big up here). The locals cannot be more friendly. Joe will be back in January for Super Bowl week and Joe is pretty certain it won't be in the high-80s then. … Yes, the Juicy Lucy is all that.