Repeated Blitz Fails Doomed Bucs
September 25th, 2017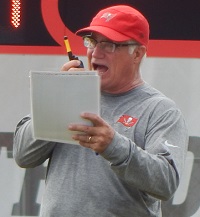 Joe will start this post by saying it's a given that the Bucs have a poor four-man pass rush. That's a too-long-established fact.
So, unlike Minnesota, Tampa Bay needed to blitz to generate pressure. The Bucs' target was future Hall of Fame backup QB Case Keenum.
And so the Bucs blitzed and blitzed, and blitzed some more. But the blitz didn't get there. Keenum attempted 33 passes and scrambled for gains a good handful of times, and the Bucs couldn't sack him. They only registered three official QB hits.
The blitzes came from all directions and the fail rate was extraordinary.
A week prior, Tampa Bay only dropped Mike Glennon once in 45 dropbacks.
Joe knows two things: First, the Bucs must keep blitzing. They won't stop Eli Manning or Tom Brady without some sort of a pass rush. Second, defensive coordinator Mike Smith will see his batting average on the blitzes improve. He's proven he's too good not to figure it out.
Keep calm.