Ira's Week 3 Picks Against The Spread
September 23rd, 2017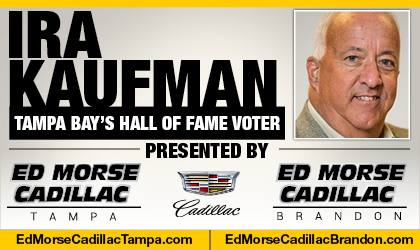 Welcome to a new feature on JoeBucsFan.com. Joe has challenged Ira Kaufman, Tampa Bay's only Hall of Fame voter, to pick against the spread this season for a $500 prize. Every Friday, Ira will type out his picks for each Friday-through-Monday game. If he hits at 53 percent or better for the regular season, then Ira gets $500 in gift cards to Abe's Place in Clearwater, home of historically amazing food and 44 craft beers on tap. Feel free to send Ira your stone cold locks on Twitter, @ikaufman76. The sage of Tampa Bay sports could always use some help.
BY IRA KAUFMAN
After a disastrous 4-10 opening week, your fearless prognosticator rebounded slightly.
A 7-8 slate is nothing to shout about, but the arrow is going up and Week 3 offers a heavy slate of road favorites. That's because slappies like the Bears, Colts and Jets are trying to defend their home turf.
Just getting back to .500 seems like a herculean task at this point, but one good week could establish some needed momentum, so here goes.
BUCS plus-1 1-2 at VIKINGS. Tampa Bay learned its painful lesson last year and won't look past a pesky opponent on the road following a dynamic season-opening victory.
RAVENS minus-4 at JAGUARS. Jacksonville's annual trek overseas won't pay dividends as a stout Baltimore defense proves too formidable in London.
COLTS plus-1 1-2 vs. BROWNS. Indy played the Cardinals tough last week and I still don't trust Cleveland to make winning plays on the road with the game on the line.
STEELERS minus-7 1-2 at BEARS. If you witnessed Chicago's opening half in Tampa, you may be wondering how John Fox still has a job  Pittsburgh's revamped defense is coming on strong.
DOLPHINS minus-6 at JETS. An embarrassing tanking situation for the NFL gets even worse as Jet fans parked at the Meadowlands don't know which team to root for.
BILLS minus-3 vs. BRONCOS. Buffalo will stick to its solid ground attack against an elite Denver defense that faces its first road test.
TEXANS plus-13 1-2 at PATRIOTS. J.J. Watt and company should give Tom Brady a few headaches and New England's defense isn't up to past standards.
PANTHERS minus-5 1-2 at SAINTS. Even without Greg Olsen, Carolina will remain unbeaten by winning the turnover battle and hounding Drew Brees into some mistakes.
LIONS plus-3 vs. FALCONS. That hamstring tear suffered by Vic Beasley robs Atlanta of an outstanding pass rusher and the Lions appear better than advertised.
EAGLES minus-6 vs. GIANTS. Fletcher Cox and the rest of the Philly gang should feast against an offensive line in shambles.
TITANS minus-2 1-2 vs. SEAHAWKS. Tennessee has just enough offense to prevail in a low-scoring game. Russell Wilson needs bigger shoulder pads to carry a burden this huge.
CHARGERS plus-3 vs. CHIEFS. Sooner or later, things have to go right for Philip Rivers. If the Chargers can keep Rivers upright against a good pass rush, he can hurt KC downfield.
BENGALS plus-9 at PACKERS. An extra few days to prepare should help Marvin Lewis and his staff lead a competitive effort at Lambeau.
RAIDERS minus-3 at REDSKINS. Derek Carr has the weapons to carve up Washington's secondary and Khalil Mack plans to get up close and personal with Kirk Cousins.
COWBOYS minus-3 at CARDINALS. Dallas learned some humility during that beatdown in Denver and Ezekiel Elliott should rebound from a subpar effort.
Ira Kaufman is the most beloved, revered and esteemed Buccaneers columnist in town. He has hung his hat at JoeBucsFan.com world headquarters since July 2016. Tampa Bay's only Pro Football Hall of Fame voter, Ira busts out columns here every Monday, Wednesday and Friday, and his award winning podcasts fire Tuesdays and Thursdays.