Friday Night Football Is Mindset In Miami
September 4th, 2017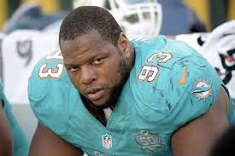 Fresh word out of South Florida, where the Buccaneers will open the season against the Dolphins as Hurricane Irma threatens the region.
This afternoon, Sun-Sentinel Dolphins beat writer Omar fired off this Tweet.
The Dolphins are conducting themselves this week as if the team will play on Friday. Just a heads up.

— Omar Kelly (@OmarKelly) September 4, 2017
Considering the Dolphins will have a very heavy hand in what happens to their home game, it sure looks like Friday night is quite likely for the season opener.
Hopefully, the storm hooks north soon and the Week 1 schedule can stay on its original course for Bucs-Dolphins on Sunday at 1 p.m. The Bucs are the ones who will have the greatest upheaval if they are forced to change their travel schedule.