Flu-like Bug Gripping Bucs
September 20th, 2017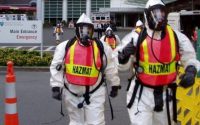 Bring back the Schiano-era hazmat team — and Joe isn't kidding.
Bust out the Lysol, hand sanitizer and surgical masks.
A flu bug is running through the Bucs roster, Dirk Koetter said today.
The list of victims? Stay tuned for the injury/illness report coming soon. Joe is guessing Gerald McCoy will be on it, based on the way McCoy looked in the locker room before practice.
Joe also heard a fellow beat writer say Jacquizz Rodgers played through a bug on Sunday against the Bears, though Joe cannot confirm. And it was known Evan Smith was stricken last week.
Not exactly good timing for this with the team about to pack an airplane to Minnesota.
Hurricanes, guys living in hotels, flu. What next?