Encouraging But Not Good For Lavonte David
September 25th, 2017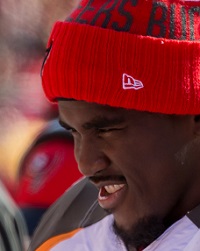 UPDATED 3:44 p.m. – Yesterday's bad news from NFL Network reporter Ian Rapoport was highlighted today at One Buc Palace.
Joe wrote about how Lavonte David needed major help getting off the dreaded cart in the tunnel at the Vikings stadium yesterday. It took a couple of guys to move him and David was in a lot of pain, a troubling sight.
Rapoport Twittered yesterday that David has a high ankle sprain and will miss games. Rapoport followed up this afternoon saying David will miss about one month. But Dirk Koetter said moments ago that David's ankle injury isn't as bad as feared or speculated, but he didn't provide a timetable.
So that's the latest. What seems 100 percent certain is that David will miss the next two games in the next 10 days, against the Giants and Patriots.
The high ankle sprain is a miserable injury for a football player.
As Joe wrote yesterday, Joe doesn't even want to think about what the defense might look like if Kwon Alexander isn't ready to return from his "re-tweaked" hamstring.
UPDATE: Tampa Bay Times reporter Rick Stroud Tweeted specifically that David does not have a high ankle sprain, but Stroud did not Tweet what is wrong with David's ankle region.