Donteea Dye Was Cut; Look For His Return
September 2nd, 2017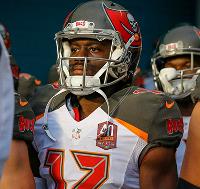 Winning Bucs head coach Dirk Koetter loves and respects his "Didi," the overachieving but not good enough Donteea Dye.
The misplaced Calgary Stampeder was cut today, per the Twitter feed of beat writer Greg Auman, but Joe expects Dye back on the practice squad.
Why? Because Koetter has always loved the guy and he'll work his butt off and be a good citizen.
Joe would move on from Dye. Isn't it time to bring in some new blood, one with a greater upside?
Dye is a great story out of Division III football, but enough already.
Joe doesn't see Dye is a cog on a Bucs' Super Bowl team.