Distorted Views Of Jeremy McNichols
September 2nd, 2017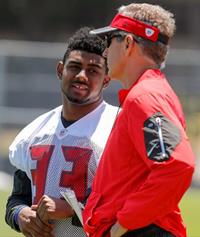 Joe's starting to feel for Jeremy McNichols.
The 17th running back taken in this year's draft has very much been a typical rookie RB taken in the fifth round. He's a little tentative with his playbook and his running, but he has secured the football and flashed on special teams.
McNichols also has "rare" hands, as general manager Jason Licht said on draft day, but those weren't put to the test in preseason.
It isn't always an immediate click for running backs. Look at the 2014 Falcons. Their offensive coordinator, Dirk Koetter, had rookie fourth-round pick Devonta Freeman on his roster, yet Koetter gave triple the carries to worn out 31-year-old running back Steven Jackson.
Does that mean Koetter and then Falcons head coach Mike Smith were morons keeping the electric Freeman, who made the last two Pro Bowls, on the bench? Or did he just need more time?
Joe's not equating Freeman and McNichols, but those ready to bury McNichols need to chill out.
McNichols' biggest problem is Hard Knocks, which put his struggles on display for fans eager to pick winners and losers. Joe is not taking a shot at fans and their passion for the Bucs. Absolutely not. But McNichols is getting the worst of it.
How would McNichols be evaluated by fans and media without the selective editing of Hard Knocks?
All that largely would be known of McNichols is that he screwed up a blocking assignment, hasn't fumbled and he's behind Peyton Barber on the depth chart. And some might have been encouraged by his early-fourth-quarter, 11-yard run against the Bengals in preseason.
Of course, McNichols could get cut this morning, but that would surprise Joe. McNichols simply hasn't been as bad as he's been painted publicly. And it will help him that he comes from Boise State, where Koetter still has a lot of trusted colleagues who referred him.