Chris Baker Wants Only No-Contact Practices
September 14th, 2017
Chris "Iverson" Baker is living up to the nickname JoeBucsFan.com columnist Ira Kaufman gave him many months ago.
And now Baker has thrown fresh gas on the fire.
You just can't make this stuff up.
The Canadian Football League, in an effort to protect players, has announced teams will no longer practice in pads during the regular season. ESPN insider Adam Schefter shared this on Twitter and guess who wants that policy in the NFL pronto.
Here's the screen shot of Baker's Twitter share and commentary.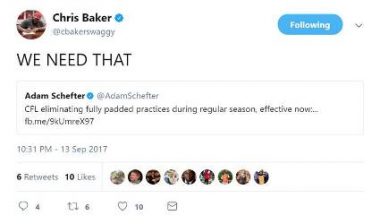 As Kaufman likes to say, Baker has made himself a target. It started with not showing up for voluntary spring practices, moved on to the entire Bucs squad ripping his practice habits on Hard Knocks, and now this commentary.
Joe sure hopes Baker shows up on Sundays.