What's Up The Gut?
September 1st, 2017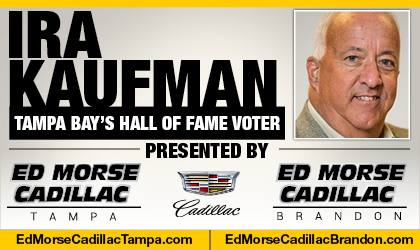 BY IRA KAUFMAN
That's what he's here for.
So far, Buc fans have noticed that Chris "Swaggy" Baker is an extrovert who doesn't mind showing off his playful side. He's been a natural for those Hard Knocks cameras, flashing a wide smile and some nifty dance moves.
Baker's first tango with his new teammates comes Sept. 10 in Miami, where Jay Ajayi is eager to strut his stuff against a rush defense that ranked 22nd last fall.
"Stopping the run has been an emphasis for us since we got back from the offseason," says Gerald McCoy. "Even though we were good on third down, we put ourselves in a lot of bad situations. We can get to the passer — we showed that last year — but we've got to stop the run for sure."
That's where Baker comes in, rather forcefully if Buc fans have their way.
A 320-pound (335?) wide-body, Baker was targeted by the Bucs early in free agency to rotate with McCoy and Clinton McDonald inside.
Can Baker make a difference as a run-stuffer?
"He wouldn't be here if he couldn't be," McCoy says. "He's here for a reason and that's what he's good at. He can rush, too, but his presence in the middle is going to be huge for us this year."
To say the Bucs struggled against the run in 2016 is a bit of an understatement. Only four times did opponents rush for less than 100 yards and Tampa Bay saved the worst for last.
December Dive
After surging to an 8-5 mark with a five-game winning streak, the Bucs were run over at Dallas and New Orleans, effectively ending their postseason chances.
The Cowboys ran 32 times for 185 yards, but I'll give the Bucs a bit of a pass because Dallas boasted the NFL's premier offensive line and stud rookie back Ezekiel Elliott. The Cowboys imposed their will on a lot of defenses in 2016.
But the following week at the Superdome, the Bucs failed to make the Saints one-dimensional. That's a major issue when you're facing Drew Brees — and the Bucs paid an exorbitant price.
New Orleans ran 31 times for 123 yards, allowing Brees to repeatedly burn the Bucs on play-action. Even in the season-ending victory against Carolina, Tampa Bay yielded 128 yards on the ground.
In those final three weeks, Buc opponents averaged 4.7 yards per carry.
"Our main intent is to demolish the run and get after the quarterback," says left defensive end William Gholston, who excels against the run. "Looking at the schedule, we do have some very legitimate offensive lines and running backs we have to face."
Especially early.
Ajayi ran for 1,272 yards last year and was the only back to post three 200-yard games. In Week 2, the Bucs face Chicago's Jordan Howard at home before heading to Minneapolis for a meeting with flashy rookie back Dalvin Cook and 2015 Pro Bowler Latavius Murray.
If I'm Mike Smith, I'm loading up the box in the first three weeks, challenging Jay Cutler, Mike Glennon and Sam Bradford to beat me.
"Last year in spots we got the job done against the run, but we didn't make our goals so no, it wasn't good enough," Gholston says. "I expect Chris Baker to be a key contributor. He was a dynamic player for Washington and he can be a dynamite player for us as well."
D.C. Chatter
I talked to a few people with Redskins ties Thursday night in the Raymond James Stadium press box. When I mentioned Baker, they described him as a good player, more adept as a pass rusher than a run-stuffer.
Whether Baker plays a pivotal role or not, the 2017 Bucs simply have to be more stout in shrinking rushing lanes They didn't allow many long runs last fall, but there were too many five-yard gains.
In that regard, Tampa Bay's third-down efforts on defense were even more impressive.
Besides the elite quarterbacks residing in the NFC South, don't forget about backfield upgrades in New Orleans (Adrian Peterson, Alvin Kamara) and Carolina (rookie Christian McCaffrey).
The Bucs know it all starts up front. That's why they retained Gholston, a middling pass rusher who plays the run well.
The Dolphins are rested and waiting. If the Bucs want to turn the hounds loose on Cutler, they'll first have to set a trap for the elusive Mr. Ajayi.
They better bring a big net.
Ira Kaufman is the most beloved, revered and esteemed Buccaneers columnist in town. He has hung his hat at JoeBucsFan.com world headquarters since July 2016. Tampa Bay's only Pro Football Hall of Fame voter, Ira busts out columns here every Monday, Wednesday and Friday, and his award winning podcasts fire Tuesdays and Thursdays.