Ira Kaufman's Week 4 Picks Against The Spread
September 29th, 2017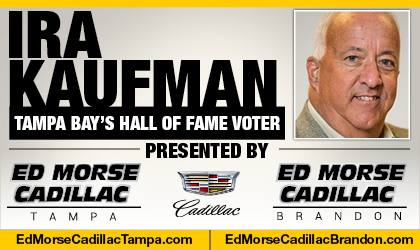 Welcome to a new feature on JoeBucsFan.com. Joe has challenged Ira Kaufman, Tampa Bay's only Hall of Fame voter, to pick against the spread this season for a $500 prize. Every Friday, Ira will type out his picks for each Friday-through-Monday game. If he hits at 53 percent or better for the regular season, then Ira gets $500 in gift cards to Abe's Place in Clearwater, home of historically amazing food and 44 craft beers on tap. Feel free to send Ira your stone cold locks on Twitter, @ikaufman76. The sage of Tampa Bay sports could always use some help.
BY IRA KAUFMAN
One step up, two steps back.
That's the chorus of an emotional Bruce Springsteen song and it's also the story of yours truly through three weeks of the NFL season.
Just when I sensed a momentum shift in Week 2, the most recent slate of games generated a 6-9 record, leaving me at 17-27 against the spread.
That 53 percent mark I'm shooting for is fading out of reach unless I can quickly snap out of this funk. You have to admit it's been a particularly wacky season when the Bears can beat Pittsburgh, the Raiders don't show up in the nation's capital and the Jets humble the Dolphins.
But like Dirk Koetter says, no excuses. Next man up. As we head to the quarter-pole, here's how this week's games shape up:
DOLPHINS plus-3 vs. SAINTS. I'm not sure why Miami is a home underdog (in England), but Jay Cutler needs to rebound in a big way from that debacle in the Meadowlands. New Orleans is the only NFL team without a giveaway, but that ends Sunday at Hard Rock Stadium.
PANTHERS plus-9 at PATRIOTS. The league's No. 1 offense meets the top-rated defense, so something has to give in Foxborough. Cam Newton doesn't have to keep pace with Tom Brady, but Carolina's pedestrian attack must find a way to maintain possession.
COWBOYS minus-6 1-2 vs. RAMS. Raise your hand if you predicted the Rams would average 36 points per game with Jared Goff under center. Dallas bounced back in the desert and the Cowboys should be able to control the clock on a shaky rush defense.
VIKINGS minus-2 vs. LIONS. Detroit comes off a crushing setback while the Vikes looked superb against the Bucs in their noisy new home. Minnesota will make a few key stops and Dalvin Cook should be the difference.
TITANS minus-1 1-2 at TEXANS. Tennessee needs to make an AFC South statement against a team that has had its number the past three seasons. DeShaun Watson is coming on, but Marcus Mariota's experience will prove decisive.
JAGUARS minus-3 at JETS. Jacksonville's defense should force enough mistakes and Blake Bortles gained some confidence in London. The Jets have been better than advertised.
BENGALS minus-3 at BROWNS. Cincinnati is due a few breaks and the Browns are error-prone behind a rookie QB. Look for the Bengals to make it six straight victories against their winless division rivals.
RAVENS plus-3 vs. STEELERS. Pittsburgh hasn't been particularly impressive and Le'Veon Bell has yet to break out. Baltimore looked like an emerging power until the Ravens lost their mojo somewhere over the Atlantic.
FALCONS minus-8 vs. BILLS. I don't trust Buffalo on the road and Atlanta's offense remains potent, even without Kyle Shanahan calling the plays. The Falcons caught a late break last week but they won't need an overturned call on Sunday.
GIANTS plus-3 at BUCCANEERS. If the winless Giants leave town on the short end, their season is over. Tampa Bay's struggling run game needs to produce because New York boasts a stout secondary.
EAGLES plus-1 1-2 at CHARGERS. Philly played a very competitive game in KC two weeks ago and the Eagles will hang with another AFC West foe on the road. The snake-bit Chargers can't seem to find that winning edge.
49ERS plus-7 at CARDINALS. If San Francisco's offensive line can keep Chandler Jones off Brian Hoyer, the 49ers will have a shot at an upset. Carlos Hyde is a major test for Arizona's sturdy run defense.
BRONCOS minus-3 vs. RAIDERS. Denver is a different team at Mile High, where the defense plays much bigger. Oakland's flop at Washington raises concerns.
COLTS plus-13 at SEAHAWKS. Russell Wilson put up big numbers at Tennessee in a shootout loss, but Indy also lit up the scoreboard. If T.Y. Hilton had better talent around him, he'd be considered one of the game's elite receivers.
CHIEFS minus-7 vs. REDSKINS. What can you say about Kareem Hunt at this point? The third-round pick out of Toledo has been the league MVP so far and the Redskins had better have an answer for him Monday night. Washington counters with its own versatile back, Chris Thompson.