Ira's Week 2 Picks Against The Spread
September 16th, 2017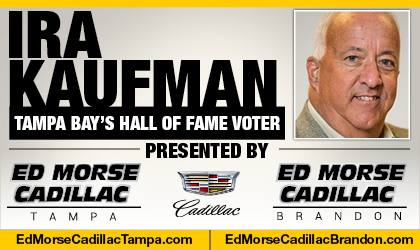 Welcome to a new feature on JoeBucsFan.com. Joe has challenged Ira Kaufman, Tampa Bay's only Hall of Fame voter, to pick against the spread this season for a $500 prize. Every Friday, Ira will type out his picks for each Friday-through-Monday game. If he hits at 53 percent or better for the regular season, then Ira gets $500 in gift cards to Abe's Place in Clearwater, home of historically amazing food and 44 craft beers on tap. Feel free to send Ira your stone cold locks on Twitter, @ikaufman76. The sage of Tampa Bay sports could always use some help.
BY IRA KAUFMAN
Not exactly an auspicious opening week for your supposed NFL guru.
I picked 14 games against the spread last week and managed to get only four of 'em correct. A 4-10 record makes me the 49ers of prognosticators, but hey, it's only Week 1.
There were a few squeakers like Denver and Buffalo winning but not covering, but close doesn't count on this rapidly growing web site.
It's a long season and I remain confident things will balance out in the long run. Of course, I also thought Hurricane Irma was going straight up I-95, so there's that.
Nevertheless, here we go in Week 2 as the Bucs and Dolphins make their 2017 debuts:
BEARS plus-7 vs.BUCS. The rust will show in Tampa Bay's season opener and Chicago will run the ball well enough to stay close before the Bucs close it out with a fourth-quarter takeaway.
TITANS minus-2 at JAGUARS. I can't believe how many people are already jumping on the Jacksonville bandwagon. Yes, the Jags defense has playmakers, but Tennessee figures to rebound after a subpar effort vs. Oakland.
RAVENS minus-8 vs. BROWNS. In case you haven't noticed, Baltimore's defense is rather stout. Mr. Kizer will be under pressure all afternoon and Joe Flacco will hit some throws downfield.
BILLS plus-7 at PANTHERS. Buffalo's ground game is productive enough to keep the Bills close and I'm still not sold on Cam Newton's bum shoulder.
PATRIOTS minus-6 1/2 at SAINTS. New Orleans faces the wrath of Tom Brady and there isn't enough jambalaya in the Big Easy to spice up an upset.
CARDINALS minus-7 at COLTS. Even with David Johnson on the shelf, Arizona has enough firepower to whip up on a woeful franchise.
EAGLES plus-5 1/2 at CHIEFS. KC had it all going at Gillette Stadium, but I'm not betting on Alex Smith to look like Dan Marino again. Carson Wentz will have some success against a secondary missing Eric Berry.
VIKINGS plus-6 at STEELERS. Dalvin Cook, fresh off a dynamic pro debut, faces a daunting road test. Pittsburgh has its share of big-time weapons, but don't sleep on Minnesota's solid defense.
DOLPHINS plus-4 at CHARGERS. Miami has had an extra week to prepare and the Dolphins were wise to head to the West Coast early. Not sure how much of a home-field advantage the Chargers will enjoy this fall.
RAIDERS minus-13 1/2 vs. JETS. It's an ugly stain on the NFL to watch the Jets playing to lose every week. Members of the Black Hole should enjoy a heck of a party.
RAMS minus 2 1/2 vs. REDSKINS. It's already looking like a long year in the nation's capital. The great Aaron Donald has returned to fortify the Rams defense.
COWBOYS minus-2 at BRONCOS. Dallas looked poised and confident against the Giants and the presence of Ezekiel Elliott takes a lot of pressure off Dak Prescott.
SEAHAWKS minus-14 vs. 49ERS. Russell Wilson seeks to rebound from an erratic effort at Green Bay as the proud Seattle defense swarms over Kyle Shanahan's popgun attack.
PACKERS plus-3 at FALCONS. In the end, it will be Aaron Rodgers who outshines reigning MVP Matt Ryan in this juicy prime-time matchup.
LIONS plus-3 1/2 vs. GIANTS. When Matt Stafford has time, he can carve up any secondary. Eli Manning rarely has time.
Season Record: 4-10