Sweet Music To The Long-Suffering
September 4th, 2017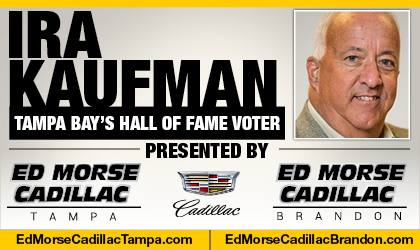 BY IRA KAUFMAN
Nobody's checking birth certificates at One Buc Place anymore. If you can play, you can stay.
If you can't, neither your draft status nor your contract will keep you around.
There was a time not long ago when age was a major factor in shaping Tampa Bay's interest in any available player. Jason Licht has changed that approach, with the consent of the guys who sign the checks.
Three years ago, the Glazers would probably have told Licht to pass on 30-year-old T.J. Ward. Instead, the Bucs pounced on a three-time Pro Bowl safety who was an integral component of Denver's imposing defense.
And while Bronco fans were in shock about Ward's release on cutdown day, Licht held an emergency meeting with Dirk Koetter. I'd venture there wasn't much debate because Ward is a heck of a player.
The Broncos balked at Ward's salary, so the Bucs quickly showed him the money while showing Mike Smith the love. With Ward in place, J.J. Wilcox was promptly jettisoned to Pittsburgh.
Why? Because Ward's a better player.
As former Bucs secondary coach Mike Tomlin used to say, we'll tolerate you until we can replace you.
Consider yourself replaced, Mr. Wilcox. Tomlin's Steelers are making moves to upgrade their secondary, with an eventual playoff meeting with Tom Brady in mind.
Sweet Music
The Bucs aren't thinking that far ahead. They are simply trying to meet the elevated expectations of their fans and themselves … and Ward will help.
Chris Conte and Keith Tandy still sit atop the depth chart at safety, but you can bet Smith is determined to turn Ward into a difference-maker in Tampa.
If you're wondering about a lengthy learning curve before Ward makes an impact, I refer you to a 1963 ditty recorded by John, Paul, George and Ringo:
It Won't Be Long.
The Bucs are in an aggressive mode, and that's sweet music to the ears of their long-suffering fans.
Everywhere you look, at every position, there's a veteran –. Ryan Fitzpatrick, DeSean Jackson, Luke Stocker, Demar Dotson, Jacquizz Rodgers, Robert Ayers, Lavonte David, Ward, Brent Grimes.
Ward turns 31 on Dec. 12, only 11 days after Jackson reaches that age. Suddenly, the Bucs are among the oldest teams in the league, with key veterans mixing in with the kids, spreading knowledge in meeting rooms and showing how it's done on the field.
Like Chucky Loves To Say
Now we know what the Glazers meant when they talked about football cycles. One phase came to a close in 2009, when Jon Gruden was fired and a veteran purge began.
The rebuilding plan took a lot longer than expected because of a series of lousy draft picks and the shocking fall of Josh Freeman. Licht arrived in 2014, and a new cycle of long-term success now appears possible, perhaps even probable, given that core leaders like Jameis Winston, Mike Evans and Kwon Alexander are still developing.
You don't add a veteran like DeSean Jackson unless you think you're close. You don't shake up the secondary with a 30-year-old safety unless you believe this is your time.
The Bucs are healthy heading into Sunday's season opener in Miami, where the heat will be on in more ways than one. Tampa Bay looked lethargic for much of the preseason and Koetter is obviously relieved that pretend football is over.
He can take comfort with the knowledge that his general manager and his owners believe in this roster and this head coach. Gruden loves to say that you either get better or you get worse in the NFL.
The Bucs just got better.
Ira Kaufman is the most beloved, revered and esteemed Buccaneers columnist in town. He has hung his hat at JoeBucsFan.com world headquarters since July 2016. Tampa Bay's only Pro Football Hall of Fame voter, Ira busts out columns here every Monday, Wednesday and Friday, and his award winning podcasts fire Tuesdays and Thursdays.