"Wakeup Call" Runs Very Deep
September 25th, 2017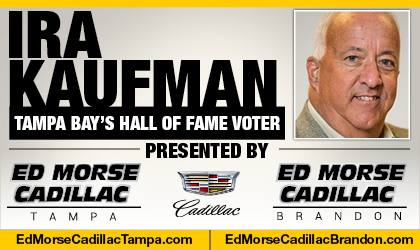 Ira Kaufman is the most beloved, revered and esteemed Buccaneers columnist in town. He has hung his hat at JoeBucsFan.com world headquarters since July 2016. Tampa Bay's only Pro Football Hall of Fame voter, Ira busts out columns here every Monday, Wednesday and Friday, and his award winning podcasts fire Tuesdays and Thursdays. You can also see Ira every football Sunday at 10:30 a.m. on FOX-13, Scott Smith's Tailgate Sunday.
BY IRA KAUFMAN
In a game that lopsided, there's plenty of blame to go around.
That includes the coaches, starting with Dirk Koetter and Mike Smith. Neither side of the ball was nearly good enough Sunday and the offensive and defensive game plans aren't exactly bound for a trophy case in Canton.
It starts on the practice field — and if you've been listening closely to the head coach, there's much work to be done. Since players reported to training camp nearly two months ago, Koetter has rarely been pleased with the crispness of Buc workouts.
And Koetter now has company.
Ali Marpet, whose learning curve took a sharp downward turn in Minneapolis, says the road to redemption meanders through the fields of One Buc Place.
"It's being consistent with our practice," Marpet says. "Next week, we have to really battle and be detailed. I don't know if this week in practice we were good enough, but we have to be better next week."
The winless Giants basically have their season on the line Sunday when the Bucs seek their sixth consecutive home victory. Tampa Bay should have a few injured players back for the sold-out matchup, but it may not matter if the blueprints aren't more imaginative and bold.
Flashback Performance
Throttled in Pittsburgh the week before, Minnesota had the Buc defense off balance all afternoon, deftly mixing short, intermediate and deep passes with some nifty running by Dalvin Cook.
The absence of Brent Grimes proved devastating as Tampa Bay's remaining cornerbacks afforded huge cushions. By the time Smith adjusted, the Vikes were way ahead and content to let Cook take center stage.
In short, this looked alarmingly like the defense that was ravaged during Tampa Bay's 3-5 start last season. Poor tackling, poor communication and a lot of bad angles to the football.
"To be honest with you, this is a wakeup call at least for me," said Clinton McDonald. "Anytime you lose it is very disappointing. You feel as if you weren't as good as you could have been. At the end of the day, this is the NFL. Win or lose, every week is an opportunity for us to get better than the last time."
If anyone doubted the importance of Kwon Alexander to this defense, shame on you. Kendell Beckwith may be a heck of a rookie, but Alexander is the catalyst for this unit and his absence was conspicuous.
Grimes is also one of the most indispensable Bucs, but the defensive depth on this team is supposed to be good enough to beat a backup quarterback. Yes, Case Keenum has Tampa Bay's number and for Buc fans, that number is 9-1-1 … I'd like to report a journeyman quarterback on fire.
And now for Mr. Koetter, who said after the game that his staff has to coach better. Yes, they do.
This time around, Jameis Winston and friends didn't benefit from four Buc takeaways in the opening half. This time around, the Bucs had to earn everything they got, and it wasn't very pretty.
Draw It Up
The ground game, decent in the opener, couldn't do a thing against a stout Minnesota defense. The second-half scoreboard dictated that Koetter would have to abandon offensive balance, but the bitter truth is there were no indications that the Vikings would have ever respected Tampa Bay's run game.
Meanwhile, I still see a reluctance to go deep and a general lack of variety.
Koetter is too good a play caller not to capitalize on all this firepower. A screen pass to Charles Sims would be nice on occasion. How about a draw play to make the aggressive Vikings think twice?
After an initial drive ended with a field goal, Tampa Bay's next five possessions featured four punts and an interception.
"Coach Zimmer does a nice job defensively mixing it up," said Cameron Brate. "It makes it hard on an offense. Chicago was a little simpler to game-plan for."
With two upcoming home games, the Bucs have every chance to finish the opening quarter of the season 3-1. Even a 2-2 mark wouldn't be a total downer, considering Tampa Bay entered the year with a cumulative 4-16 record in the first month of the past five seasons.
But for that to happen, the Bucs have to be a lot better in all aspects than what we saw on Sunday.
It ends with the players. It starts with the coaches.